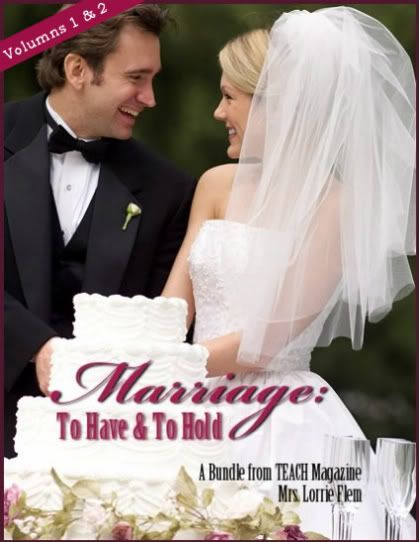 Earlier this week my husband's aunt passed away. She was in her 80's yet she was still full of life and was always there for the family anytime she was needed. She was a Proverbs 31 woman through and through. There is no doubt in anyone's mind that she is now with the Lord and we will be seeing her again someday. I still cannot imagine what her husband is feeling right now. After 50+ years of marriage he must feel very alone and lost right now.  Her death was sudden, an accident, and Im sure he always thought he would go before her. But what a legacy of love they have given to their family! It has made me think a lot about how important my own marriage is. It could end just as suddenly, we do not know when our time to go will be.
The contents of this bundle have been very helpful the past few weeks I have been reviewing them. I did not have biblical examples of what a marriage should be growing up. My parents divorced when I was young. I also divorced many years ago. God has given me another chance, and with the Lord's help I want to show my children by example what a marriage should be. I want them to see us working through the hard times together, with God as our guide. I am thankful for the opportunity to be a part of
The Gabby Moms
and review this great resource!
The Marriage Bundle
is available from
http://www.eternalencouragement.com/
as a download for $39.97 or mailed to you for $49.97.
Disclaimer ~ I received this bundle as a download in exchange for an honest review as a part of The Gabby Moms blogger program. No other compensation was given. All opinions are my own.
This bundle also includes:


Audios





5R's Session 2 - Rekindle




One Life to Live, One Man to Love










E-Books





Loving Your Knight in Shining Armor Even When He Doesn't Shine




Roadmap to a Marvelous Marriage




Marriage Tidbits to Treasure




Quotes Not Quibbles




Marriage Report










E-Booklet





31 Daily Biblical Prayers for Wives to Pray for Their Husbands




Encouragement Report




Don't Settle




SHIMLY




What God Says about Marriage




75 Inexpensive Romantic Rut




It Happened One Afternoon










Magazine Back Issues





2001 Summer Issue TEACH Magazine "Loving Your Husband"




2009 Spring Issue TEACH Magazine "Marriages Made Marvelous"