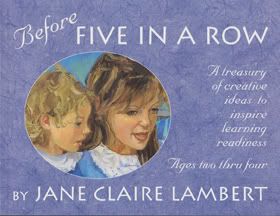 If you have a preschooler aged 2-4 years old who wants to "do school" but you don't want a complicated curriculum, Before Five In A Row could be just the solution. It isn't really a curriculum, there are no set things to do, just suggestions of activities that little ones can do to enrich and add to the stories that you will be reading. Jane even states that if there is an activity your child doesnt like, then skip it! This is supposed to be an enjoyable time for you and your child.
Before Five in a Row is a guide, more or less. A total of 23 children's picture books are featured in this book. There is also an extra mini unit for another out of print book if you can locate it. The stories do not build on one another so you can skip around and even omit some if you like. If you don't already own these books, you can get them through your local library. Not all libraries will have every book, if yours doesn't then ask about getting them through a program called inter-library loan. Another library will send their copy, and you check it out just like any other book, and when you are done your library will mail it back to them. No charge to you!
That being said, a few books may not be available because they are out of print. We were unable to locate 3 of the books even through inter-library loan. Of course we live in a very rural area here, larger areas may have a better chance of finding them all for you. There were still plenty of books to go through without those 3 though, in my opinion.
My Daughter is 2, and she really surprised me with some of the things she could do once I tried them with her. She always enjoys being read to, so that part was really enjoyable. The activities for each book were sometimes things I would normally do with her anyway, but some were new to us. Suggestions for incorporating learning into everyday activities, like bathtime, or going to the grocery store, were given in the second half of the book. All of my kids enjoyed the reading of these classic books, and so did I.
There are also
Five In A Row Forums
full of great suggestions and interaction with other users of the program. I found some really great stuff here! There are lots of friendly people who can answer questions and possibly help find out of print books.
I highly recommend this gentle learning adventure for your preschooler! I like that I can borrow the books instead of buying all of them, the only cost is the
Before Five in a Row Book
itself, which costs $35.00. I feel it is well worth it for an entire years worth of learning and enjoyment. If you do want to buy some of the picture books, you can
get them as a set here.
A full list of the books are also given on this page. You may already own a few.

Read what other members of The TOS Crew thought about Before Five In A Row!

Disclaimer ~ I received a copy of Before Five in a Row, as a part of The TOS Homeschool Crew, in exchange for an honest review after using it in our homeschool, no other compensation was given.