The day our
Hideaway Country Kitchen
arrived the kids were just DYING to get it out and play with it. I told them we would put it together as soon as they cleaned up the room. That was one of the fastest cleanups ever!
Silly me, I thought the kitchen would come assembled in the box since one of the biggest features of the kitchen is the ability to fold it down to just 6 inches deep and store it away under a bed. But no, there was assembly required. Oh bother. So we decided to wait until the 2 year old took her nap to try putting it together. My husband offered to do it when he got home from work, but I wanted to try it myself, after all I was the one doing the reviewing.
So a little later we opened it up and began sorting the parts, all were there, and the packaging was great. Not a scratch or dent on any pieces. The instructions had pictures, which were helpful, and I was so glad to see the parts had stickers with letters on them to help identify them. It took the kids and I 2-3 hours to put it together but we did it!
I was SO glad we got most of it done before Star woke up, we ended up losing a screw because of her. (We found it later.) I was also wishing I knew how to use a power drill by the time we were done. My wrist was sore from turning all those screws by hand. Another adult to help would have been better too, some parts needed two pairs of
sturdy
hands to get together. Was it all worth it? Oh yes, just look at those happy kiddos!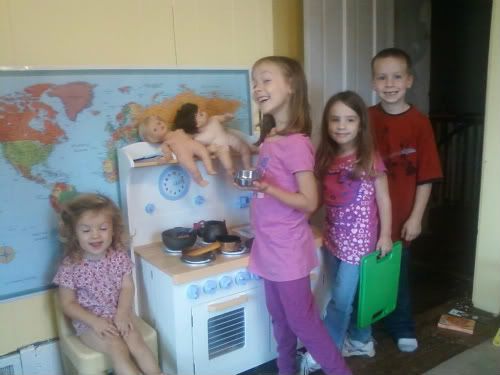 This kitchen has been a hit since day one! It gets played with every day. I left it in our classroom to keep Star occupied while we have school. She brings us many treats and cups of tea.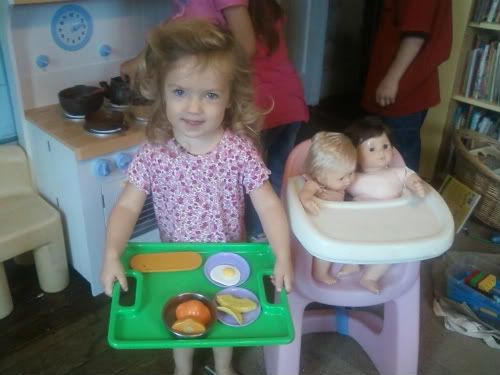 1. It is sturdy, and pretty!
2. The lower part is large inside and there is plenty of room to store all the pots, dishes, and food at cleanup time.
3. When the kids get older and don't play with it so much, because it folds up, it will be easier to store and get back out when grandkids come over.
4. This is a toy that is so open ended. Both boys and girls will play with this kitchen. There are lots of imaginative ways to have fun.
5. I always wanted something like this growing up! I get a lot of pleasure watching them play, and I get to play along with them too. :0)
(These are quotes directly from them)
1. We can fit inside the oven! We play Hansel and Gretel in it!!! (Oh my!)
2. The shelf is good for holding our plates of food.
3. We can cook for our babies and pretend we are good mommies.
4. We pretend it's our restaurant and we are cooks and have a TV show.
5. We don't have to wash these dishes!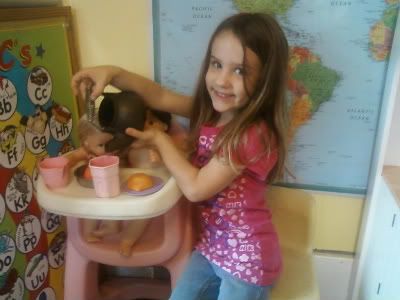 The Hideaway Country Kitchen is available from
Guidecraft
for $200.00. I know that is a lot of money to spend on a toy right now in these hard economic times, but I do feel the quality is worth it. This is something that will be played with for many many years and still hold up.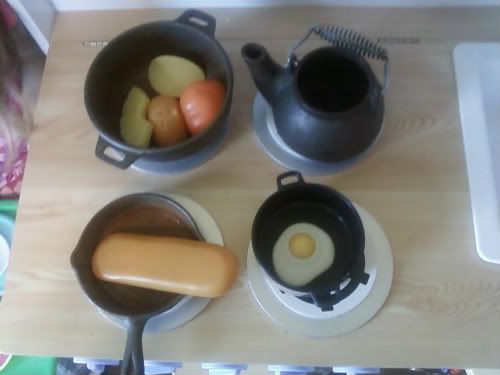 Disclaimer ~ We received this product at no cost in exchange for an honest review as a member of
The Homeschool Crew
. No other compensation was given.