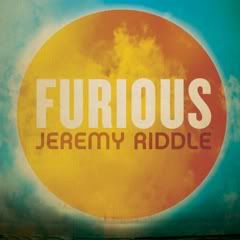 The new CD, Furious, from Jeremy Riddle was released today! I just LOVE this CD and enjoy singing along with these songs of praise. The beat isn't too fast nor too slow, and Jeremy Riddle's voice was made to sing!
Hear a
sample of a song from Furious here
, or better yet,
LIKE Vineyard Music on Facebook
and download 3 free songs!
From the press release.....
Riddle began production on the album nearly a year ago with Dove Award winning producer Ed Cash (Chris Tomlin, Matthew West, David Crowder Band) at the helm. Cash's contribution forms the backbone of the album which also features production from Bobby Hartry, a long time Riddle collaborator.  The project follows Prepare The Way: Live, an album recorded in front of a live audience in Corpus Christi, Tex., earlier this year from Vineyard.
Riddle describes Furious saying, "It's hard to come up with words that depict the magnitude of Christ's love – the depth and width of it. Furious doesn't work outside of the context of love; we tend to translate the word as angry, but I see it as a super-powerful force; stronger, deeper, broader than our vocabulary can fully describe."
Four years on the road as a touring worship leader eventually took its toll on Jeremy, so in January 2011, the former jr. high youth pastor came on staff as worship community pastor at Bethel Church in Redding, Calif. Working under pastors Brian and Jenn Johnson, Jeremy facilitates a worship community of over 200 people within the church.
"My wife (Katie) and I have always had a heart to serve the local church and never wanted to do the full-time travel thing for very long, so it felt like a good time to transition into something different," Jeremy says. "I've developed such an appreciation for the fruit that has been sowed from my life – personally and artistically – by being part of a local community."
Consequently, several of the tracks on Furious are also featured on Be Lifted High, the most recent album from Bethel Church.
"These songs are a reflection of being part of something bigger than just me," Jeremy says. "Through some significant growth in understanding and living out humility from a very independent place, I've shifted into a place where I can't even claim this record is completely inspired by me. There are so many elements of the album that could never have flowed from me had I not been connected to people walking out life with me."
This giveaway is now closed!
Furious is available from I Tunes, you can also enter to WIN a copy of Furious! Follow the instructions below to enter.....up to 7 entries. Leave a
separate comment

for each thing you do. :0) A winner will be chosen on September 30th, 2011 at NOON!

1. MANDATORY ENTRY- Visit

Vineyard Music

, leave a comment telling me if you like the Furious cover art.

2. Follow

Jeremy Riddle on Twitter

.

3. Follow

Vineyard Music on Twitter

.

4. LIKE

Vineyard Music on Facebook

(You also get 3 FREE song downloads for doing this!)

5. LIKE

Stairsteps Homeschool Academy on Facebook

.

6. FOLLOW this blog via Google Friend Connect (in the sidebar)

7. SHARE about this giveaway via Twitter or Facebook

"Disclosure of Material Connection: I received one or more of the products or services

mentioned above for free in the hope that I would mention it on my blog. Regardless, I

only recommend products or services I use personally and believe will be good for my readers.

I am disclosing this in accordance with the Federal Trade Commission's 16 CFR, Part 255:

"Guides Concerning the Use of Endorsements and Testimonials in Advertising."