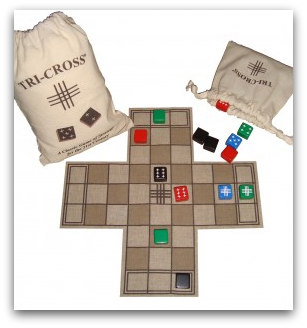 My kids all like games, when I read on the Tri-Cross website that it was a game of strategy I thought of my 3 youngest boys who like to play chess. Just as I suspected they were the three who enjoyed this game the most. I played a few games with my husband. It sort of reminded me of playing checkers also, but it was more challenging than that. You really have to plan your moves well in order to win. I never won a game, he beat me every time! LOL
I love the eco version of Tri-Cross, we took it with us earlier this month when we went to visit family a few hours away. We decided to just keep it in the van so we can play it whenever we get stuck somewhere longer than we expected. I like that the eco version board is WASHABLE!
The game is designed for 2 to 4 players, and for ages 8 and up. My 8 year old son did like playing it, and was able to figure it out pretty quickly. My 17 and 14 year old sons helped him through the first few games. They also taught my oldest daughter's boyfriend to play.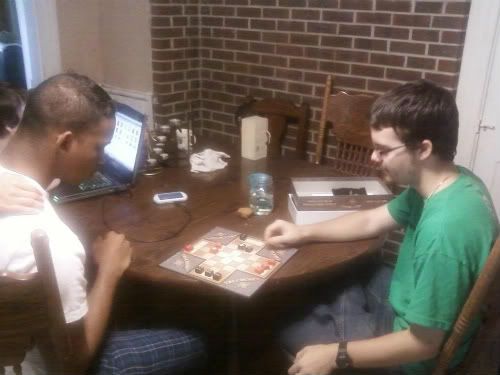 There are different ways to play, you can watch some
short videos on how to play here
.
Tri-Cross is available from
Games For Competitors
. The standard edition is $24.95, the Eco Version is $19.95, and there is also a wood version for $35.95.
The
history behind the Tri-Cross game
is very interesting. I think its great how this family worked together!

Disclaimer ~ I received this game in exchange for an honest review as a part of
The Homeschool Crew
. No other compensation was given.