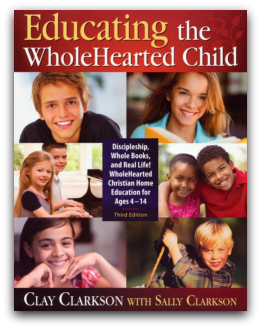 Our homeschool was blessed to be able to review this newest edition of  Educating the Wholehearted Child. This is a book I feel every family could benefit from. It goes way beyond homeschooling, and into something much more meaningful in this life and beyond. Education is important of course, but this book goes beyond just the basics of giving your child a good education.
As I read through this book, I knew that this was what I had been striving for from the beginning, the wholehearted method is exactly what I have always envisioned for my children. You see, I want my children to be brought up to know God, and to live for Him. Discipleship in the home is crucial, and this book explains this very well.
When I was first called to homeschool my youngest 4 kids, I was a little scared. OK, I was terrified! I read so many books on homeschooling, subscribed to every newsletter, magazine, and group I could find online. I wanted to be the "perfect" homeschool mom. We are now on our 4th year, and believe me I am far from perfect. I wish this book had been one of the books I read back in the beginning. I could have avoided a lot of mistakes and wrong ways of thinking.
Now before you start thinking this is just another "how to homeschool" book, let me assure you, the Clarksons are not trying to get you to model their methods. They do share what worked for them, and give advice on choosing living books and ideas for implementing daily life into homeschooling. They also encourage every parent to seek Gods will for their own family, no two families are the same. You will be encouraged and inspired by this book, but you will also be comforted by knowing you do not have to follow it exactly. Trust God to lead you in educating your children, this is the message being conveyed.
One of my favorite parts of this book are the sections at the end of each chapter called "In Our Home".  Clay and Sally share stories from their lives and experiences here, it was so refreshing to know this book was written by real people who have been there and done that, and were willing to share about what worked for them. This made the book feel so much more personal to me.
Each page also has quotes, bible verses, and little stories that I found encouraging and cheerful to read. This book would bless anyone thinking about homeschooling, just getting started, and also those veterans who could use some encouragement to keep on going and remind them of why they started homeschooling to begin with.
I highly recommend it!
Once I started reading it I couldn't put it down. It will be a while before I completely finish it, but I am enjoying it so much I don't want it to end. I will be using this book for many years!
This new edition has 376 pages and is a large 8.5x11 inches! It was written especially for those homeschooling 4 to 14 year olds.
You can read the Table of Contents and a Sample Chapter here. (I guarantee you will be hooked after reading the sample!)
Educating The Wholehearted Child is available from Apologia Ministries
for $22.oo


Disclaimer ~ We received this product at no cost in exchange for an honest review as a member of
The Homeschool Crew
. No other compensation was given.