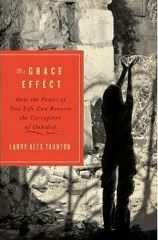 Have you ever stopped to imagine living without grace? In America we take so many little things for granted. Something as simple as someone letting you go first in line because you only have one item to check out, or someone holding the door open for you when you have your hands full. These are things we do appreciate, but we halfway expect them at the same time. Why? Because whether we realize it or not, we live in a country where Grace abounds.
In The Grace Effect, Larry Taunton gives us a taste of what living in a graceless society is like. He lived it for a while along with his family, while in the process of adopting their daughter, Sasha, from Ukraine. He tells of how the people in Ukraine know very little grace because they do not know God.
Larry's wife and sons went on a mission trip to Ukraine and returned home feeling so much compassion for the orphans that they went to help. While there they fell in love with a girl named Sasha, and felt led to adopt her. God opened doors that seemed impossible, there was no denying that this was God's will for them.
This story was so powerful, and very eye opening for me. I couldn't put it down, I looked forward to the few pages I could squeeze in at a time to read right now. When the book ended I wanted to read even more. i love those kinds of books!
In this season of Thanksgiving, we have so much more to be thankful for than we realize. Reading this book will change the way you think about a lot of things. I highly recommend this book! You can read more about Larry Taunton and his ministry at
Fixed Point Foundation
.
From the book.....
"
Simply defined, the 'grace effect' is an observable phenomenon
—that life is demonstrably better where authentic Christianity flourishes.
"
What does Christianity give us beyond televangelists, potlucks, and bad basketball leagues?  Not much, according to the secular Left.  The world, they say, would be a better place without it.
Historian and Christian apologist Larry Taunton has spent much of his career refuting just this sort of thinking, but when he encounters Sasha, a golden-haired orphan girl whose life has been shaped by atheistic theorists, he discovers an unlikely champion for the transforming power of grace.
Through the narrative of Sasha's redemption, we see the false promises of socialism; the soul-destroying influence of unbelief; and how a society cultivates its own demise when it rejects the ultimate source of grace.  We see, in short, the kind of world the atheists would give us: a world without Christianity—cold, pitiless, and graceless.
And yet, as Sasha shows us, it is a world that is not beyond the healing power of "the grace effect."  Occasionally infuriating, often amusing, but always inspiring, The Grace Effect will have you cheering for the courageous little girl who shamed the academic elitists of our day.
The Grace Effect: How the Power of One Life Can Reverse the Corruption of Unbelief
is available from Amazon for $10.98 with free shipping on orders over $25.00. It is also available for
Kindle
One of my readers will win a copy of The Grace Effect, leave a comment below to enter! Leave a separate comment for each thing you do, one entry per comment. Winner must be 18 and live in the US to win.Winner will be contacted via email. Winner will be drawn on November 27th 2011 at midnight EST.
This giveaway is now closed!
Mandatory Entry- Tell me something you are thankful for.
Extra Entries-
1. LIKE
Fixed Point Foundation on FACEBOOK
2. FOLLOW
Fixed Point Foundation on TWITTER
3. LIKE
Stairsteps Homeschool Academy on FACEBOOK
4. FOLLOW
Stairsteps Homeschool Academy on TWITTER
5. SHARE this giveaway on either FACEBOOK or TWITTER (leave 2 comments if you do both!)
"Disclosure of Material Connection: I received one or more of the products or
services mentioned above for free in the hope that I would mention it
on my blog. Regardless, I only recommend products or services I use personally
and believe will be good for my readers. I am disclosing this in accordance
with the Federal Trade Commission's 16 CFR, Part 255: "Guides Concerning the
Use of Endorsements and Testimonials in Advertising."