I was blessed to have 7 of my kids home for Christmas this year, here they are on Christmas morning, pajamas and all! My oldest son was home with his family (my grandbabies) where he should be.
When I was growing up I always hated having to go out on Christmas. I just wanted to stay home and relax with my family and play with my presents. When I had a family of my own I was afraid of offending someone so for years we went to other peoples houses every Christmas, all the while wishing I was home.
A few years ago I finally broke that cycle, and I must say we have enjoyed Christmas much more ever since!
This year Christmas fell on a Sunday. I was very excited about that because I wanted to go to church and worship my Lord and Savior! The kids were excited as well! My husband wasn't so excited, he wanted to stay home like we had been doing. This was different though, even though I know that December 25th is most likely NOT the real birth date of Jesus, it IS the day we celebrate His birth. Why wouldn't we go to church and worship Him just like any other Sunday? Well, my husband does not attend church with us, so it was not a normal thing for him to do.
To keep peace I was going to skip it for my husbands sake. I took the kids to the play at church on Christmas Eve. There was a beautiful candle light service after the play, and then we drove around for a little while and looked at Christmas lights. We used to always do that when my older kids were little, before we moved here to the country where not many houses are around. It was so fun! We even sang Christmas carols all the way home!
So back to Christmas Day.....We got up early, took the above picture, and sang Happy Birthday to Jesus!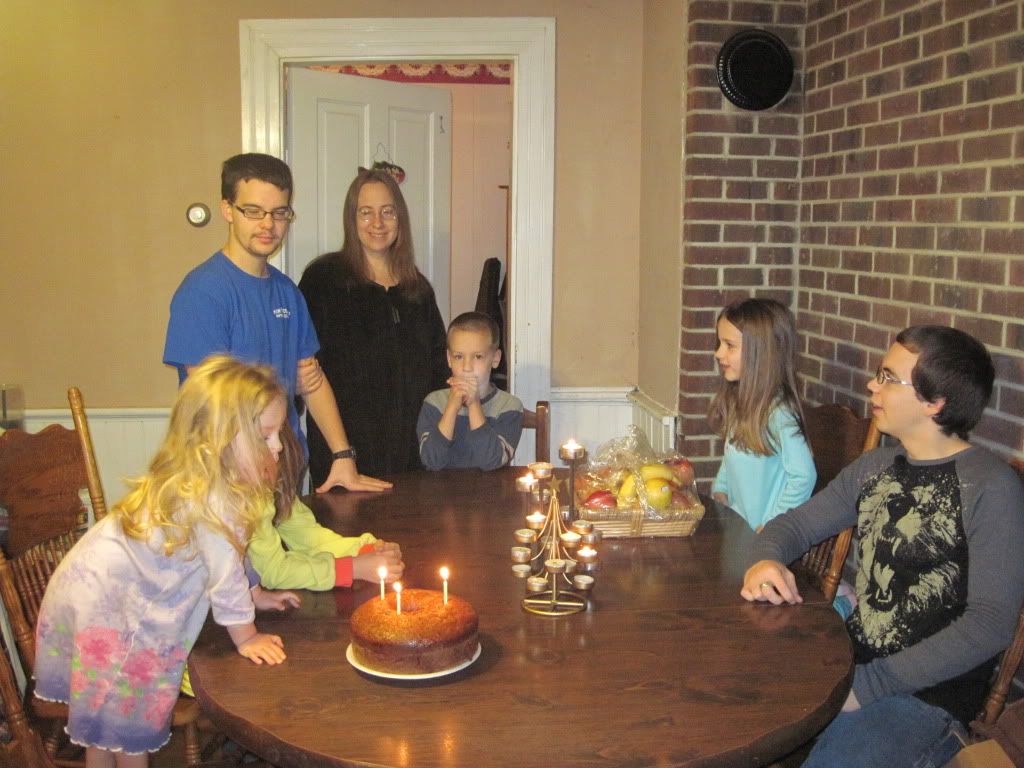 Little Star blew out the candles and then we opened gifts. The kids had plenty of time to play with their new toys, and every single kid asked when we were going to church. Every. Single. One. I took that as my sign to go, I would not want to hinder the little children! LOL So off we went, except for the baby who covered herself in chocolate at the last minute, and my husband didn't object. Praise be to God! This was such a wonderful Christmas for me, full of family and love, and although it was nowhere near quiet in my house, the sense of peace was all around.
Merry Christmas!