Star will be 3 next month, where does the time go?? Sigh! She has been asking to go see the dentist, simply because she wants a goody bag like the other kids get, complete with a toothbrush and floss. LOL So I made an appointment for her the same day the other little ones were going.
When we got there they were very busy. It was almost 2 hours before she was seen. She was VERY upset that she had not went back yet! The hygienists thought she was crying because she didn't want to go, when I explained she was tired of waiting they finally took her back. She hopped right up in the chair and leaned back and opened her little mouth.
She let them check her teeth, use the electric toothbrush, and use floss too. All with a big huge smile! The hygienist said she had NEVER had a child so young act like her. She also said she had never had a child so young sit in the chair without a parent in it with them. What a nice surprise for them!
My 7 year old daughter, River, has been saying for a couple of years now that she wants to be a missionary dentist when she grows up. All the hygienists in the office know this, so they let her "practice" on Star. How fun!!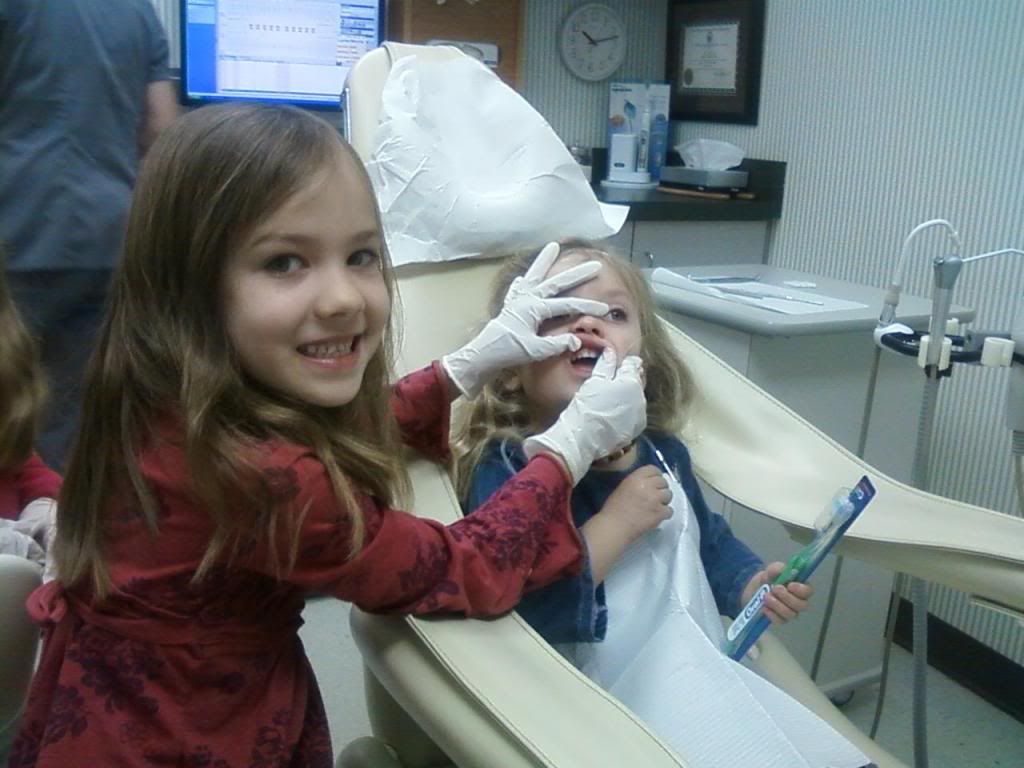 I am so thankful we have such a great dental office near us, my kids truly enjoy going there! Check out her grip on the toothbrush, haha!! When Star got home she took that toothbrush and gave it to her oldest sister that was home visiting from college. I thought that was the sweetest thing ever, especially after all she went through to get it. I guess her current Hello Kitty toothbrush was better though!