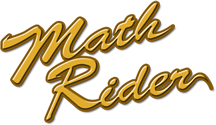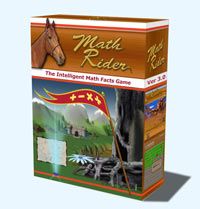 Does your child like playing games on the computer? Does your child need help learning math facts? Math Rider is a
math facts game
, disguised as a fun adventure! It was designed to help 6-12 year olds with addition, subtraction, multiplication and division.
My 7 year old daughter enjoyed playing Math Rider even though she had to practice math to play it. At first she balked, because she didn't want to play a math related game, but after she played a few times she enjoyed it more. I started her out on the easiest level, and after collecting some rewards for playing so well she was hooked.
In the picture below you can see a screenshot from the game. Your character rides a horse, and as a new math problem comes on the screen you type in the answer to cross the hurdles. If you miss a problem or type too slowly the game gives you the answer then moves on. You will get the missed problem again to be sure you learned that fact.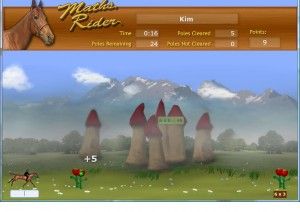 Math Rider has been a fun way to practice math facts, even for me. It has been a long time since I practiced multiplication and division, the kids enjoyed seeing if I could keep up!
I liked being able to see where our math strengths and weaknesses were. The statistics page was very helpful!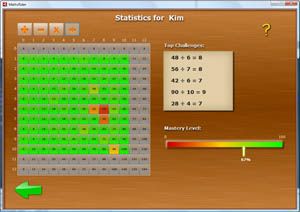 As you play higher levels the scenes and stories change. The stories do repeat themselves but the rewards are not always the same. My daughter wanted to hear a new story on every quest, and I have to agree that would make the game more interesting to play. I hope in future updates more stories will be added. The stories in this game do include mentions of magic and magical beings, in case this is something you avoid in your family.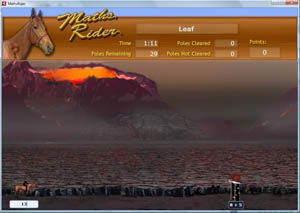 What I liked about Math Rider ~
I like that the child is rewarded for improvement in skills, she didn't have to get it perfect in order to earn rewards. I liked that she could visibly see her progress after every ride. I liked that the rides are fairly short (30 questions) so she didn't feel like she was doing too much at one time. I like that she can come back at any time and continue a quest right where she left off, or start a new one if she wanted to.
What my daughter liked about Math Rider ~
She liked the stories, and the music played while her horse was riding. (This can be turned off if it is distracting or annoying.) She liked seeing her map after each ride so she knew how much further she had to go before her quest would be complete. She liked the progress rewards. But most of all she liked that she can tell a difference when she does math on paper, she can get done faster now because she has memorized those math facts from playing the game!
Math Rider
can be downloaded and played in just a few minutes from
http://mathrider.com/
. You can try out the full featured software free for 7 days, just click the free trial button on the website. If your kids like Math Rider you can buy it now for $37.00 (regular price is $47.00) until February 15th 2012.
Read what other members of The Homeschool Crew thought of Math Rider!

Disclaimer ~We received a download of Math Rider as a part of The Homeschool Crew in exchange for an honest review after using it in our homeschool. No other compensation was given, and all opinions are my own.