All beginning reader books are not created equal. We have a couple of sets of readers here at our house, and none of the kids have taken any particular interest in them. They read them, and move on. I was very happily surprised when these
Little Books
arrived and my 5 year old emerging reader read me 2 books the very first day. We received sets 1 and 2.....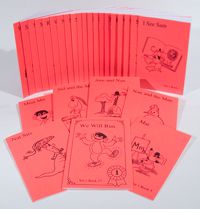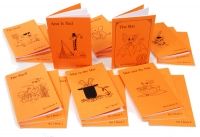 Each book introduces a couple of new words, the progress seems to be slow at first, but my daughter has made progress quickly. The best part is, she asks to read to me, she asks to read to daddy, she asks to read to anyone who will sit and listen long enough. Now that excites me! These little books give her a reason to be proud, and she is encouraged to keep going because she likes the story characters (especially Mit the monkey), and she loves the attention of course. Her
primary love language
is physical touch, so sitting on our laps and reading to us just fills her little love tank right up! She also likes adding stickers to her progress chart, we found perfectly sized smiley face stickers at the dollar store, those funny faces make her giggle.....
I like these books because they are short enough to read through in just a few minutes. This helps struggling readers not feel overwhelmed. I like that only a couple of new words are introduced in each book, it isn't too much at once and there is plenty of review for words already learned. At the bottom of some pages are questions to ask the child about what is going on in the story. These are simple reading comprehension questions to be sure your child understands what they are reading. The smiley faces at the bottom of the page remind me to praise her continually for doing such a great job.
So you may be wondering,
what does a little book look like inside
? (Click that link to see a whole book for yourself.)
Each
Little Books set costs $30.00
, and each set contains up to 27 books. There are 8 sets available at different reading levels.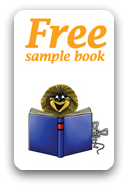 Click on the
free sample book
graphic to download a free sample book and free flashcards for all 8 levels.
A placement assessment, scope and sequence, instructor guide, resource materials, progress tracking sheets and completion certificates are also available at no cost.
Read what other members of The Homeschool Crew thought about Academic Success For All Learners ~ I See Sam Little Books

Disclaimer ~ We received this product in exchange for an honest review after using it in our homeschool. No other compensation was given. All opinions expressed are my own.