There are
many dangers out there on the internet
for kids.
Action Alert
was designed to keep kids safe while using the internet. They have a free version which allows you to set up a kid-safe computer in just minutes with a quick download. There is also a paid version available, called Maximum Protection, which also offers multiple user protection, is fully customizable, and offers full social network monitoring. Example: facebook
Listed below are 8 ways
Action Alert
protects your children while online.....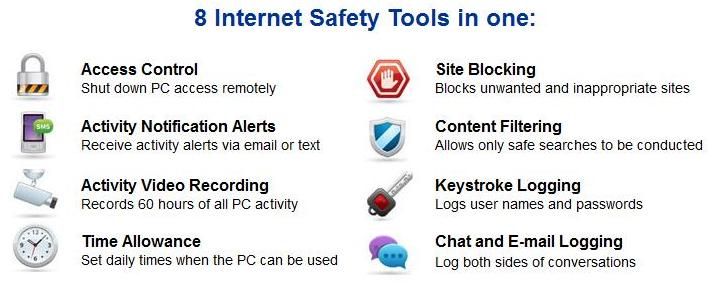 You as the parent can control what your kids can and cannot do while online. You can block websites that are not allowed in your home, you can set time limits, you will receive notifications via email or text message if a questionable site is accessed. When you get the message you can actually disable the computer right then and there if you choose with just one chick. All activity on the computer can be recorded and played back later, like a DVR, so you know exactly whats been going on.
Action Alert has a special homepage that offers a safe search bar, where all searches are filtered so only kid-safe sites can be loaded. You can get answers to some
frequently asked questions here
.
Action Alert
as the winner of Disney's iParenting Award, and has been featured on NBC's Today Show. It has earned the Safe Family Seal of Approval as well.

So what did we think about Action Alert after using it?
Well, first let me state that I not a very tech savvy person at all, and the kids' computer that I installed the program on is pretty old, a Windows XP version.
The day I downloaded the program our computer began having issues it didn't have before. It ran very slow, and some programs would not work at all. I tried unsuccessfully to uninstall it, and after around 2 weeks the computer wouldn't do anything at all after loading. I had to do a complete reformat and reinstall windows again. (Thank you tech savvy friends who helped!) It is now working just fine again.
If you
read reviews from other Homeschool Crew members
you will see that quite a few of them liked this program. I was excited about all the great features that Action Alert offers, and I really wish that the program would have worked for us, but unfortunately it didn't.
If you have doubts about whether or not this program will work with your operating system smoothly I suggest you
contact Action Alert
before you download it so they can answer your questions.
Read what other members of The Homeschool Crew thought of Action Alert!

Disclaimer ~ We received the maximum protection version of this program for one year in exchange for an honest review after using it in our home. No other compensation was given. All opinions expressed here are my own, based on our own personal experience.