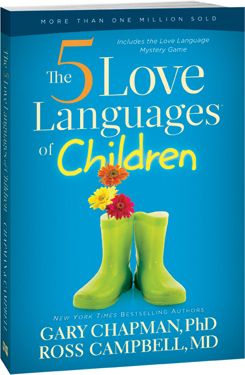 I want to show my kids how much I love them every day. Until I read this book I never knew kids could feel loved in different ways and actually have a preference. The 5 love languages for children has given a whole new meaning to loving my kids so that they "feel" loved.
I personally think everyone in the world should read Gary Chapman's books, but if you are a parent or caregiver to a child you should read this book first! I wish I had this kind of knowledge and insight when my older children were little. I look back and see so many ways I could have made them feel loved. We cant go back in time but we can definitely change the future!
All people feel love in one of five ways...
Words of Affirmation
Physical Touch
Receiving Gifts
Quality Time
Acts of Service
Gary goes beyond just explaining what these languages mean, and gives real life advice for finding your child's primary love language and implementing it in their daily lives so their love tank doesn't go empty. He explains how most types of misbehavior in children is a result of then not feeling loved, even if they truly are.
After reading this book myself and using the suggestions with my own children for over a month now, I can say I see a difference. They smile more (and as a result so do I) and conflicts seem much easier to resolve. They still aren't perfect, and I don't expect that at all, because neither am I.
Grab your copy here
, or.....
Would you like to win your own copy of The 5 Love Languages For Children? Enter below on the rafflecopter entry form. If you do not see the form below, or are reading this via email, click on the title to go to the post in its entirety.
a Rafflecopter giveaway
"Disclosure of Material Connection: I received one or more of the products or
services mentioned above for free in the hope that I would mention it
on my blog. Regardless, I only recommend products or services I use personally
and believe will be good for my readers. I am disclosing this in accordance
with the Federal Trade Commission's 16 CFR, Part 255: "Guides Concerning the
Use of Endorsements and Testimonials in Advertising."