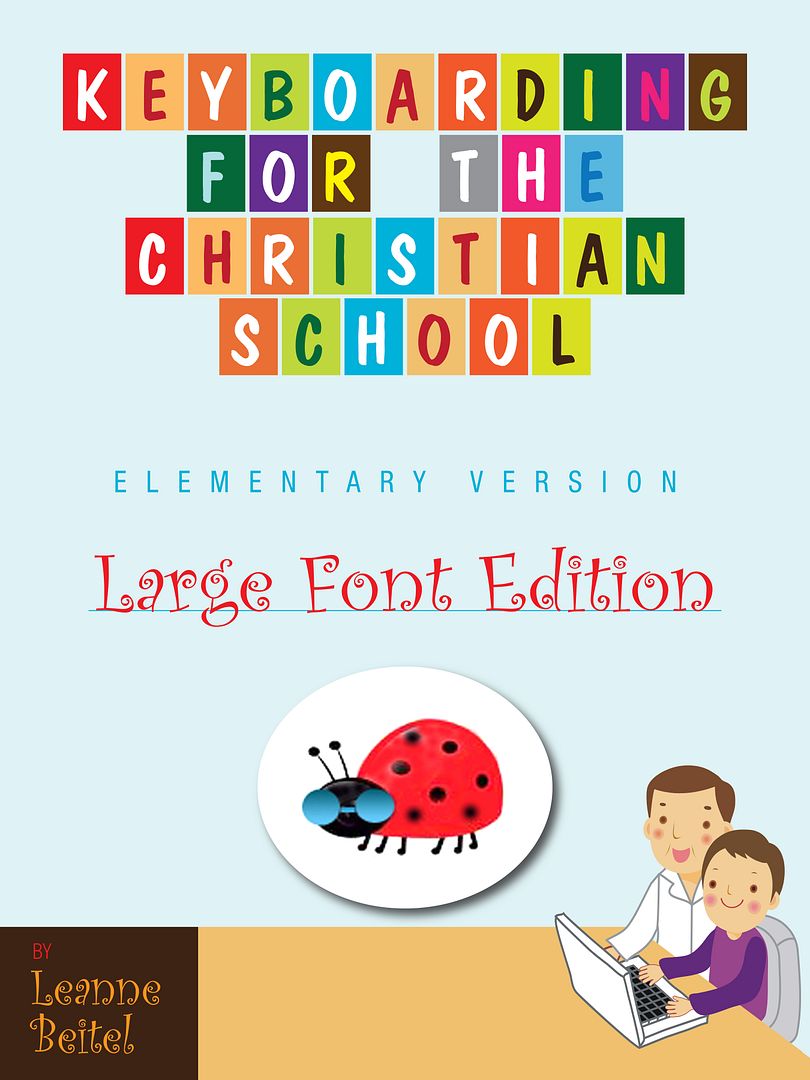 I have a confession to make, I cant type. Yep, every post you read here is meticulously written in "hunt and peck mode". It has always been frustrating to me, I have tried to teach myself before, but I guess old habits are hard to break. When given the chance to review Keyboarding for the Christian School, I knew this was something my kids needed to learn, but I was afraid to teach it since I cant type myself.
I said a prayer as I signed up for this opportunity. As I read through the ebook, one thought kept nagging me, if the kids can do this SO CAN YOU! So for a little twist on this review, instead of just teaching the kids to type, I decided to learn it first myself.
Keyboarding for the Christian School starts with the basics, just in case your child (or yourself) are a true beginner with using a computer keyboard. I would have found this ebook very helpful 13 years ago when I turned on a computer for the very first time! I did a few lessons on my own before I introduced the kids to them.
The lessons in this ebook are simple to understand, the practice exercises are not too hard or time consuming. Each lesson covers just 2 letters, numbers, or symbols, including the number keypad on the right of most keyboards. Centering, enumerated lists, and timed writing lessons are also included. The one tip I have to give, is not to try and move on to the next lesson too quickly. For me, I have had to practice and practice, because I am so used to just pecking around I find it hard to hold my hands still in just one place. I guess you can teach an old teacher new lessons, but I'm certainly glad my kids will learn typing the right way before they develop bad habits like me!
So I suppose you are wondering if I "typed" this review. Honestly, no. I hope to build up speed though and start typing everything the right way. I'm not going to give up! Just like a bible lesson we had recently, I plan to persevere just like the turtle.
Are the kids typing yet? A little. My 9 year old doesn't care to write or type anything. My 7 year old finds it interesting and likes trying new things, especially things she can do better than her brother. She also liked Miss Mabel the Ladybug being in each lesson. Both of them enjoy writing bible verses, and some of their favorites are in the lessons as practice.
I was able to put this ebook on my kindle and use it to look at during lessons. The kids couldn't read it well on my kindle, so I printed their lessons. If you have a tablet or a laptop that could work well and you wouldn't have to print. I really appreciated the large font edition for my 9 year old. This helped him a lot.
Keyboarding for the Christian School Elementary Edition
is available as an ebook download for $12.95. Use code
SUMMER2012
to get
20%
off your purchase through 8-29-12. It was written for grades K-5, but it's working for me too!

Disclaimer ~We received this ebook at no cost in exchange for an honest review after using it in our homeschool. No other compensation was given, and all opinions expressed are my own.