Who is My Neighbor? And Why Does He Need me?
What a question! That isn't how I grew up thinking about my neighbors. I grew up wondering who my neighbor was, but my question was why did I need them? We rarely saw our neighbors, they either worked most of the day and returned after we were called in for dinner, or didn't go outside much. I knew what they looked like, I knew some were elderly, some were young, some had kids and we sometimes got to know the kids at the bus stop.
It wasn't until I was much older that I came to know who my neighbors really were. My biblical neighbors. They aren't just the people on either side of your house, or even in your own neighborhood. Our neighbors are everyone on this earth. We may not always feel like we need our neighbors, but they do need us.
The bible calls every Christian to " love your neighbor as yourself" (Mark 12:31). Do you know what that really means? Do you want to know what that means and how to teach your children about this most important task that Jesus called us to do? The Bible tells us how, and gives parables to show us examples. Jesus knew we all learn by example, He was the greatest example of all. He also taught us through parables. (Stories that teach a lesson.)
Apologia has expanded on this topic, and used many teaching stories, or parables, to get to the heart of your children age 6-14. Each story helps build a biblical foundation in your heart as you learn what being a neighbor really means. View the
table of contents
and
read a sample chapter here
.
The 8 chapters include...
Does Anyone Really Need Me?
How Can I Make a Difference?
Who is My Neighbor?
Why Did God Make Families?
What Can I Do For My Country?
Why Can't We All Just Get Along?
Who is God's Family?
Why Does the Church Need Me?
This is the third book in the
What We Believe Series
. I have reviewed
Book 1
and
Book 2
previously if you would like to read my opinions on those volumes. You do not need to have used the previous books to use this one. This has been my favorite book so far, because loving my neighbors has been on my heart for a long time now. I know my children learn by example, we purposely find ways to help others whenever we can. I want my children to know how much joy comes from giving, from volunteering, from being a listening ear, whatever it is one of our neighbors need. Even the smallest kindness, such as opening a door or saying thank you, can make a big difference in someone's life.
We have used this book as our summer bible study. Each chapter has plenty of bible verse references, real life examples, and questions to discuss. The accompanying Notebooking Journal compliments the book so well, giving plenty of room for us to make notes, write down our feelings, and do the hands on activities in the back of the book. My 7, 6, and 3 year old girls enjoyed the coloring book, with pages to go along with each story. It kept my 3 year old busy while I read to the older ones, less distractions are always good right?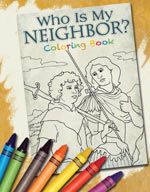 The book gives suggested lesson plans, and breaks the book into small chunks that can be covered in three weeks for each of the 8 chapters. Of course you can use it however you like, but I like to have a guide to go by with any book we use. Sometimes the kids want to hear a little more, and sometimes life happens and we have to skip a day's lesson. Like every Apologia book, there is also an accompanying website to enrich the lessons and go a bit further if you like. The password is given inside each book.
I highly recommend this series to anyone wanting to learn or teach a biblical worldview. This series has been life changing for me, and I know my kids have learned from these books because I see them making good choices. I have heard them retell stories to their friends. They ask me to read them stories and like the time we spend together a lot. (So do I!)
We also used this book for last month's lesson in our Keepers of the Faith Club that meets here once a month. I was quite impressed by the enthusiasm the kids showed at the thought of getting more involved and showing love to others. I hope when we meet next time they have stories to tell me about how they used their own God given gifts to help someone. We sure have had plenty of opportunity lately in our area when the storms came through and we lost power for days.

Who is My Neighbor? And Why Does He Need Me?
is available from the
Apologia
website for $39.00. The Notebook Journal is $24.00 and the Coloring Book is $8.00.

Disclaimer~ We received this product at no cost in exchange for an honest review after using it in our homeschool. No other compensation was given and all opinions expressed are my own.