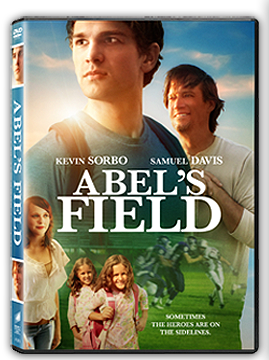 Abel's Field is a family friendly movie about a love for family, persevering through hard times, and finding faith. Seth McArdle (Samuel Davis) is a senior in high school who also holds down 2 jobs and cares for his young twin sisters. His father abandoned them and his mother passed away unexpectedly. It doesn't help matters that members of the football team are bullying him and end up getting him in trouble with the coach of the team.
God uses this situation for good though! Seth is given yet another job helping a man named Abel (Kevin Sorbo) fix the leaky football field, and in the end they both help each other.
This is a great movie for family night. I was able to watch it with my college aged daughter and her boyfriend, two 15 year old boys, and my 4 younger ones. The movie held everyone's interest until the end, and comments were made about what a good movie it was. It got a thumbs up from everyone!
I loved how gentle Seth is with his little sisters, how sensitive he is to their needs.
Although my younger kids enjoyed the movie, I think the characters are more appealing to teens and young adults because of the high school setting. It would make a great movie for youth group night and sleepovers.
Abel's Field is available to purchase on DVD at many retailers nationwide. It can also be purchased through the
Abel's Field.com website.
or from Amazon
You can also enter for a chance to win this DVD! Just follow the instructions on the Rafflecopter form below. If you are reading this message in your email click on the title above to go to my blog to enter.
a Rafflecopter giveaway
"Disclosure of Material Connection: I received one or more of the products or services mentioned above for free in hope that I would mention it on my blog. Regardless, I only recommend products or services I use personally and believe will be good for my readers. I am disclosing this in accordance with the Federal Trade Commission's 16 CFR, Part 255: "Guides Concerning the Use of Endorsements and Testimonials in Advertising."