We were blessed to review two other products recently from
Activity Bags.com
,
Preschool Activities and Reading Games in a Bag
. We have enjoyed those learning games so much around here. I was so excited to learn that they now have a new product available,
Craft Kits in a Bag!
There are 3 eBooks to choose from, each containing 32 sets of instructions to make craft kits for your kids ages K through 6th grade,
swap with others
, or give as a gift.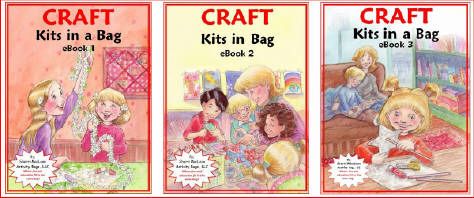 I haven't met a kid yet who didn't enjoy some kind of craft! I thought making some of these craft kits would be a great idea for the kids to give as Christmas gifts. We didn't actually get to do that though, we had a terrible sickness go through our house TWICE between Thanksgiving and Christmas, so we decided to make some after Christmas and give them as birthday gifts this year.
The instructions are clear and easy to understand, and most of the kits required items and supplies we already had here at the house. Some we bought at the Dollar Tree, and I have a few things in mind to look for at yard sales this spring.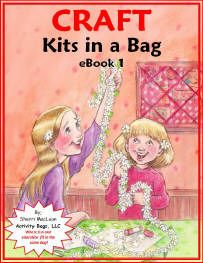 I love how I can put these together ahead of time and have a handy gift or activity when company with kids comes over. Everything goes in the bag except the standard supplies needed to complete the crafts such as glue, tape, or scissors.
See a sample craft from eBook 1 and the Table of Contents HERE.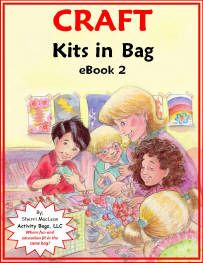 My kids are all the crafty types. They enjoy making things and decorating the house with their creations.
We like to have our Fridays be relaxed and do "fun" things if we have been able to complete our schoolwork for the week. Knowing they can pick out a craft kit on Friday is a GREAT motivator for them to finish their assignments by Thursday evening.
See a sample craft from eBook 2 and the Table of Contents HERE.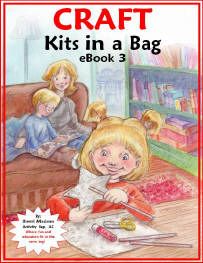 For the most part they are able to complete the kit by themselves. This leaves me free to catch up on some work of my own!
I have a small tote with a handle that I keep basic school supplies in so we can find them quickly. This can be carried to the dining room table or coffee table while they work on a kit, and then put away when they are done. This has really helped keep any mess at bay!
See a sample craft from eBook 3 and the Table of Contents HERE.
You can download the
Coordinator Handbook for FREE
if you would like to
organize a swap.
Grab a FREE eBook sampler by filling out the survey on this page.
Craft Kits in a Bag eBooks
are available for instant download for $15.00 each. Take a look at the
samples
offered for each eBook to see what crafts are offered in each book.