Last September we were blessed with a review copy of
A Cry From Egypt
through the Schoolhouse Review Crew.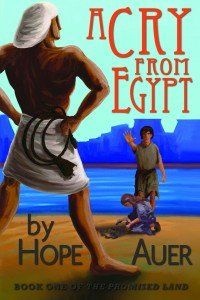 Here is a little from my review of the book.....
A Cry From Egypt is the first in a series of historical fiction published by Great Waters Press. It is written for ages 8 and up. I read it aloud to my 9, 8, and 6 year olds. They are already familiar with the story of how God used Moses and Aaron to help the Hebrews escape from slavery in Egypt. This story uses historical facts from the Bible, and adds fictional characters to give readers a different perspective about the plagues, how Egyptians treated the Hebrews, and vice versa.

The story centers around Jarah, a 12 year old Hebrew slave girl. I loved how Jarah showed compassion for the Egyptians as they were going through the hardships of the plagues. Even after all the hardships her people had to face, she was able to see the Egyptians as people in need of God. In the beginning of the book she had some serious doubts about whether Yahweh is the one true God. (Yahweh is the word used for God at this time in history. I had to explain this to my kids right away.) Jarah's father believes and trusts in Yahweh completely, but her mother worships the Egyptian gods and would prefer that her children did too. This caused some conflict between the mother and father, and during these parts of the story I could tell my daughter was troubled by it. It is an essential part of the story though, and I cannot wait to read future books to see how the mother reacts to leaving Egypt.
Read my full review of the book here.
The author, Hope Auer, has generously offered to give away an autographed copy to one of my readers! Thanks Hope! We really enjoyed this book, and we are anticipating the next book in the series!
To enter just follow the steps on the rafflecopter form below.
a Rafflecopter giveaway
Disclaimer ~ I received no compensation for posting this giveaway on my blog. I simply want to help out a young budding author, who happens to be a very good one in my opinion!