The kids and I have been having fun this past few weeks learning more about composers and their music using the
Composers Activity Pak
from
Homeschool In The Woods
. After starting piano lessons through
MusIQ
, my 8 year old daughter in particular became very interested in knowing more about some of her "teachers" and what other music they had written, when they lived, etc. This was a perfect companion product!
The composers Activity Pak is a digital product designed for grades 3-8. You can get an instant download for $18.95 or a CD version for $19.95. No supplies are included, you will need a printer, white and colored paper, white and colored card stock, colored pencils or other coloring instruments, file folders, general supplies such as glue sticks, tape, scissors, and a few random items like a brad fastener and piece of velcro. I had most of these items already left over from other art projects. There are also 29 music files included from 42 composers in MP3 format to listen to.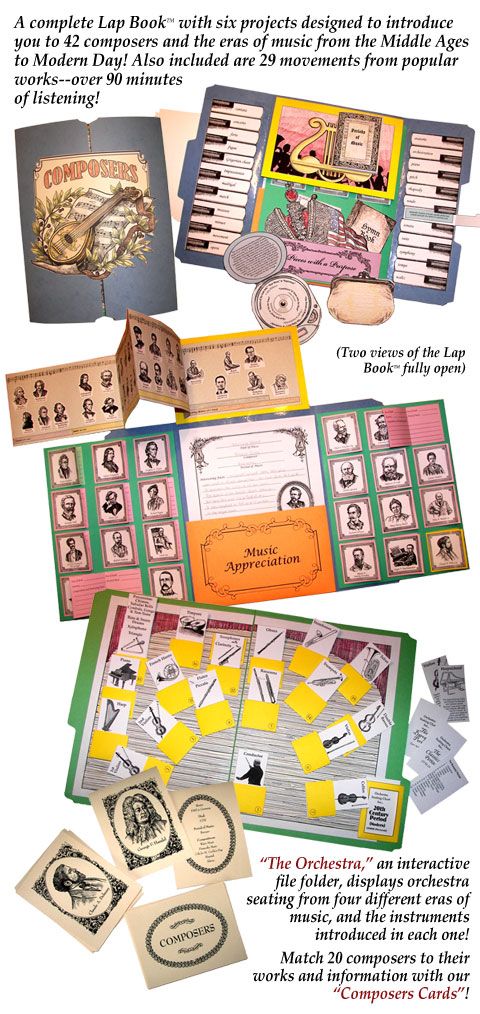 The file downloaded quickly and easily and I was able to begin printing right away. There are quite a few files to open and print. I recommend printing the instructional pages first, because some project pieces need to be printed on card stock or colored paper. It took me about an hour to get all the printing done, so make this a weekend or evening project when you aren't busy with other things.
I want to mention here that my laser printer only prints in black and white. Thats OK! I was very relieved to know we didnt need any colored ink to make this lap book. The kids colored some pieces themselves, for others we used colored paper. My printer is also fussy and would NOT print on card stock no matter how many times I tried. We found ways around that problem too.
Complete instructions for assembling and completing each activity are included. These are very detailed and made the product easier to use.
How we used it.....
We worked on this lapbook a little each day and I counted it as history. I let the kids decide which part they wanted to start with, and they chose the composer cards. Instead of using card stock as suggested, I printed them on regular paper, then we cut them out and glued them to index cards. It took more time of course but they work just as good!
The kids enjoyed listening to the music pieces and discussing them, but did not want to fill out the music appreciation sheets. They are young, so I didn't push them to do it, I wanted this project to be very enjoyable for them.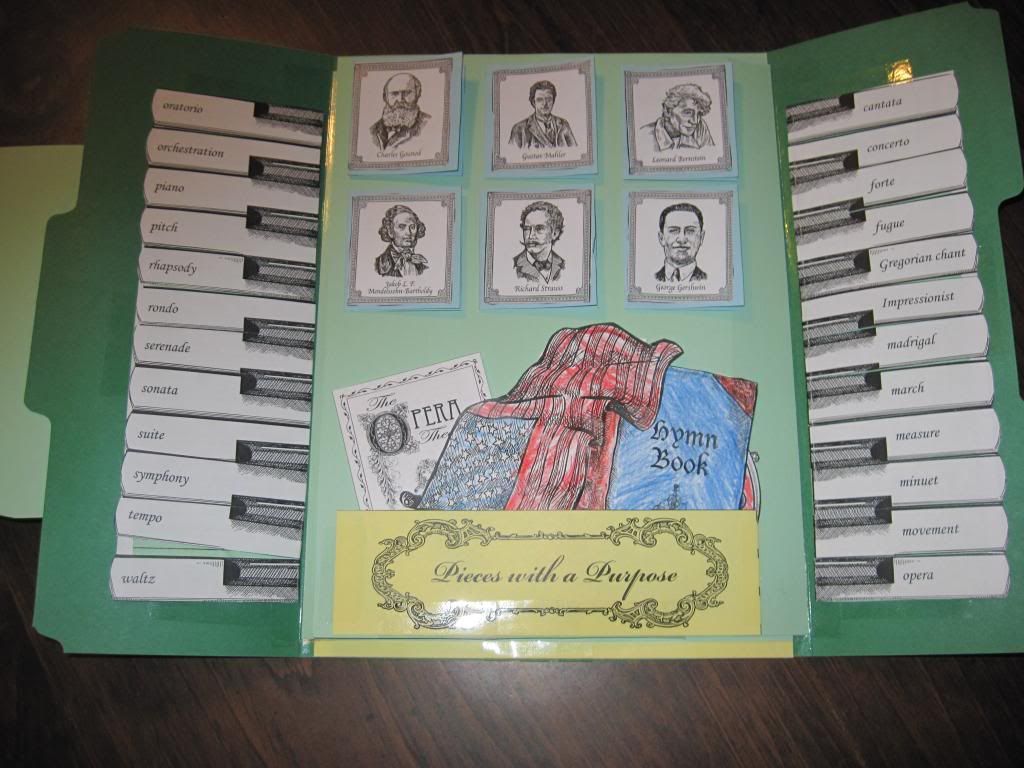 The timeline was a great visual when discussing when each composer lived compared to others, and how long it has been since the music was composed.
The Pieces With A Purpose, Vocabulary Piano Keys and Periods of Music sections were fun to put together and make good reference pieces when they forget something and need to look up the information again.
What we thought of it.....
If you are crafty and enjoy hands on projects this will be a lot of fun for your family! The kids loved all the cutting, coloring, gluing and arranging it all together. Although there are a lot of great activities there is not a lot of information included. It is essential that you look up websites, find books at the library, or use other ways of obtaining the information you need to make this study complete. A page of suggested materials is included in the pak, but I wasn't able to find any of them where I live. I spent more time than I had anticipated because I like things all "boxed up" and ready to go. I had to stretch myself out and be a bit more adventurous. It was a good thing. You can go as deep as you like with this, or keep it very simple for younger children. I feel like it is a very versatile and open ended unit study, just be aware that this isn't an all inclusive product.
Many more great products are available from Homeschool In The Woods including
The 20th Century in America Hands-On History Lap-Pak
and
Great Empires Activity Study
which were reviewed by other members of The Schoolhouse Review Crew. Click the banner below to read more reviews!