For the past few weeks we have been using an interdisciplinary literature based curriculum called
Moving Beyond The Page
. It is a complete language arts, science, and social studies program, all you need to add is math. We were able to choose one literature unit and either one science or social studies unit for the purpose of this review. I chose
age 7-9
so my 7, 8, and 9 year old children could use it together.
Note that if you want to use this with more than one child you will need to purchase additional sets of student sheets for $4.99 each.
The kids picked
Poppy
for our literature unit, which included an online version of the Poppy teacher manual and worksheets, the actual novel
Poppy
by Avi, and an owl pellet dissection kit ($25.91). They chose
Lifecycles
for the science unit, which included a spiral bound manual, the books Who Eats What? and What Is A Life Cycle?, and a Green Earth Butterfly Kit ($45.92). MBTP recommends that
these two be used together
to enhance the learning experience, but you are free to use them independently or with another unit of your choosing.
We used the online version for Poppy and a physical manual for Lifestyles. I
much
prefer the physical book for our family. I can see how having the units online could be very beneficial for some however. The online version is less expensive, but each unit is only good for 90 days after you activate it. That is plenty of time because each unit is designed to last about 3 weeks. But if I wanted to use it again later with my 4 year old I would have to reactivate it for half price. Obviously if I have a physical book I can re-use it at will and simply order student sheets. And having the book in hand means its more portable for me. We don't always have school in the house, especially in summer.
My Opinions and Thoughts.....
The website stated that MBTP is for all children, especially hands-on, creative and gifted learners. I totally agree with this. I was worried at first that my struggling learner would be overwhelmed by it, and that my advanced child would soar through it. I was surprised to learn that my fears were unfounded and both of them really got into the activities and loved all the hands on stuff, especially the owl pellet dissection!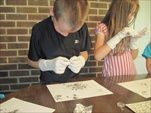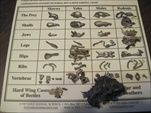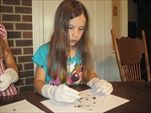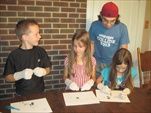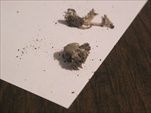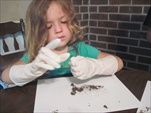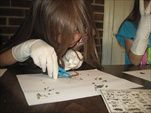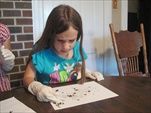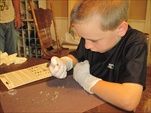 We did not get to use the butterfly kit yet because the caterpillars we ordered did not arrive in time, but we will be doing that just as soon as they do!
What we liked about Moving Beyond The Page.....
We are all science fans, so I loved having that working together with the literature unit. As we read Poppy, the activities correlated and made the whole experience much more enjoyable and hands on.
This curriculum really made the kids get involved in research and figuring things out for themselves. They had to imagine more and get creative. I like how the activities made the book come alive in their minds.
The
Forum
and
Idea Share
pages from the MBTP website were very helpful and gave some good ideas.
What we did not like about Moving Beyond The Page.....
On days we tried to fit everything in they recommend it seemed to be a bit much for the kids to handle. I broke it down for them and stretched it our further so it wasn't so overwhelming.
The kids cried a few times because they did not enjoy having to write so much. They just wanted to get on with the story. I cant blame them, the story was so interesting! We did a lot of the questions orally instead so we could get back to the book.
I did not care for the online version because I prefer a book in hand, but the printable worksheets were convenient. It was also easy to access online, simply log in and see all of your units on one page. Activate only the units you are using, the rest stay there waiting until you are ready to use them. Each unit is active for 90 days, but if you need more time just email them and they will extend it for you.
Science activities included learning about food chains, life cycles, similarities and differences in plants and animals, reading interesting science books and more.
Just for fun, here is my 4 year olds little "play" she put together about Mr. Ocax (owl) and Poppy (mouse) using the puppets she made.
A
full year package for age 7-9
is a full 36 weeks of interdisciplinary curriculum and can be purchased in different ways~
1. Full Year Complete Package
4 parent manuals (science and social studies)
4 student activity books (science and social studies)
All 37 required books
Science Manipulatives~ butterfly habitat, owl pellet dissection kit, human ear model, and thermometer.
$676.53
2. Full Year Package (Online)
Parent Manuals and Student Pages are all online (Must have internet to use)
Required books in physical form
Science Manipulatives
$587.96
3. Full Year Package~Curriculum Only
4 Parent Manuals
4 Student Activity Books
This option is for parents who already own the books or can get them from the library easily. Please note that the books are essential to use the program, and the science manipulatives greatly enhance the learning. You can purchase just the manipulatives.
$371.06
4. Individual Units as needed (prices vary)
For those who want to supplement or use as a summer program.
You can find a
whole page of samples here
, I encourage you to check these out to see how in depth these units really are.
Other members of The Schoolhouse Review Crew reviewed different units, check out their reviews by clicking the banner below!