We were so blessed to be chosen to review two wonderful products from
Institute For Excellence in Writing
. I received
Teaching Writing Structure and Style (TWSS)
, and
Student Writing Intensive Level A (SWI-A)
. This level is for grades 3-5, so two of my children fell into that category.
For years I have heard other homeschool moms rave about how wonderful
IEW
is, how user friendly it is, and how students begin to love writing while using it. I couldnt wait to try it out ourselves!
The DVD's in both sets are taught by
Andrew Pudewa
, he is such a gentle teacher and very understanding of the needs of the children he is teaching. I loved his sense of humor and the personal stories he threw in along the way of successes and failures. His tips and advice are truly golden, this man knows his stuff! Watch a great interview with him below.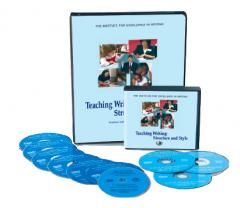 The first step in using this set was for me to find some time to watch the first DVD in the Teaching Writing Structure and Style. Alone. I wanted to take notes and really understand how to teach the program and make this as fun as possible for my reluctant little writers. I got that opportunity the following Sunday evening thanks to my wonderful husband.
I learned SO MUCH just from the first DVD. I do not recall learning to write in school, but obviously I did. I had no idea how to teach someone else to write. I felt like I knew where to start and I was excited to start the kids on Student Writing Intensive Level A after watching the DVD's.
Looking back at my own notes, the best tips I took away from Mr. Pudewa were:
1. Don't worry about their handwriting, let them be messy. Save that for the final draft.
2. Don't worry about their spelling, that can be fixed in the editing stage later.
3. Don't expect your kids to know what to write about, give them something to write about. Any subject of interest works just fine.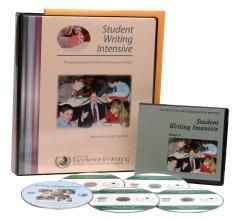 The first day we used Student Writing Intensive I explained to the kids that this was a whole new way of learning how to write, and that they really needed to give it a try. They reluctantly agreed and sat down to watch it with paper and pencil in hand. I should have taken a picture of their faces just for laughs!
Their first assignment was about sea snakes. This got my little science and animal lovers attention. As it turns out sea snakes are pretty interesting, so writing down keywords from each sentence didnt seem too hard.
My son (10 years old) has some learning disabilities in language arts so he appreciated it when Mr.Pudewa said it was OK to write short sentences. When he was instructed to combine two sentences using the word "which" my son felt like it was too hard to do. I encouraged him to say the sentence he wanted to write out loud and then write what he said. We had some tears and feelings of being overwhelmed, but after it was all over he actually said it wasnt too bad, and he felt like he could do it easier the next time. What joyful words to hear!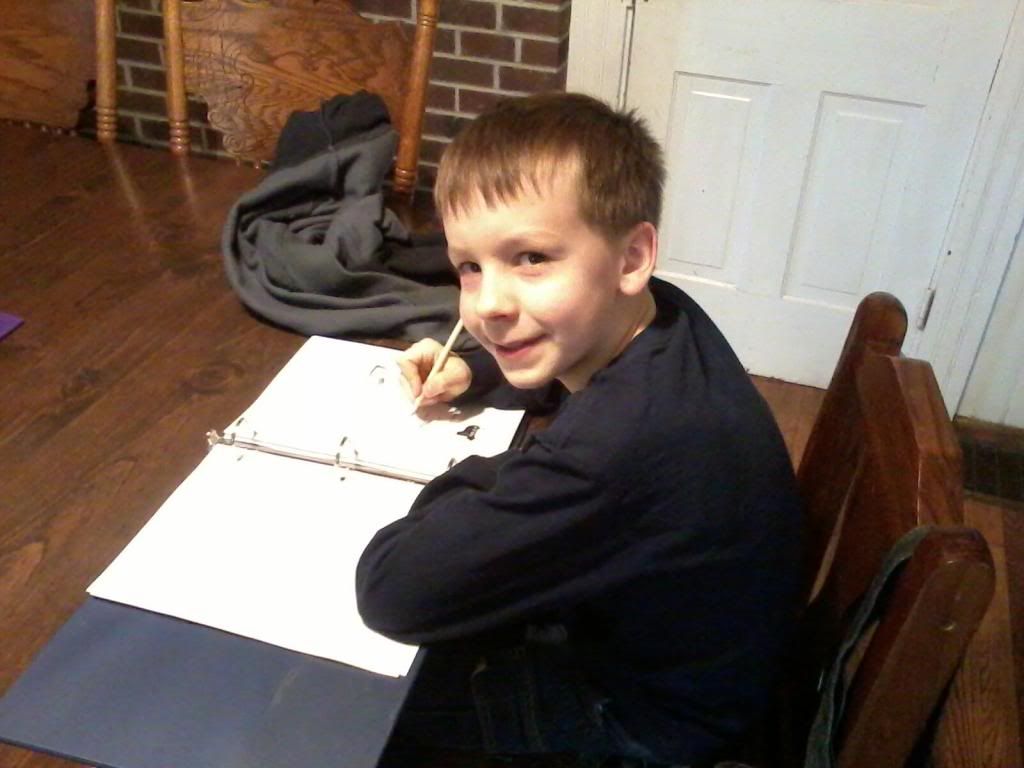 My daughter (8 years old) got through the first assignment pretty easily. She was ready to move on before her brother, but to keep things simple she waited patiently while I worked with him alone. Her only complaint was that she wanted everything she wrote to be perfect, but Mr. Pudewa tells the kids not to erase anything. If they make a mistake, simply draw a line through it and move on. He has them write on every other line so there is room for editing, this drove her nuts. He also told them to write with pen not pencils. I had to encourage her to try these new ideas and see how it worked out in the end. She was pretty pleased with the results.
Just for fun I also let my daughter who just finished first grade (age 7) try it out. She did great at picking out key words and telling me sentences out loud. She was really overwhelmed by trying to write it down however, so I didnt push that. I feel like she will be ready for it in the coming year though.
As their teacher I have really enjoyed using IEW! I felt from the beginning that I was given the knowledge and tools I needed in order to teach them, and this made all the difference in the world for me. I loved having Mr. Pudewa be the teacher, he is just fun to listen to. I highly recommend Teaching Writing Structure and Style for any parent who feels overwhelmed by trying to teach writing. There are
many other levels
to begin with if Level A is too young for your children. I learned right along with my kids, and that is how we like to learn!
Teaching Writing Structure and Style
can be purchased from the
Institute For Excellence in Writing
website for $169.00. It includes 10 DVD's. Six contain instruction for the teacher, one contains tips and tricks, and the last 3 contain sample student workshops for 3 different age levels. Also included is a seminar workbook with sample lessons, word lists, syllabus and more. Its about 160 pages in a nice 3 ring binder.
Student Writing Intensive Level A
can be purchased for $109.00. It includes 4 instructional DVD's for the student and a Structure and Style overview DVD for the parent, a 3 ring binder with dividers and a student packet with about 100 pages full of handouts, notes, and a scope and sequence. If you use this with more than one student they will each need their
own set of student materials
.
If you plan on purchasing both sets they are available as a
bundle for $249.00.
Read about other levels and products from IEW by clicking the banner below!