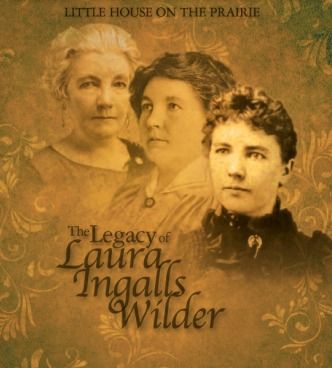 As a young girl I loved watching the Little House on the Prairie television show! It wasn't until I was an adult that I read Laura's books and became a little bit obsessed with all things Little House. I was so excited to have the chance to review a documentary about Laura's life called
Little House on the Prairie ~ The Legacy of Laura Ingalls Wilder
. This documentary was compiled by
Legacy Documentaries
, and I think it is so appropriate that the executive producer is
Dean Butler
, who played Almonzo Wilder in the Little House TV series.

After reading the books I noticed a lot of things didn't match up with the television series, I wished for a book that would tell the "real" story behind Laura's life. I have to say that this documentary has fulfilled that wish for me. I thoroughly enjoyed watching the true story, without the hard details left out of the books for the sake of young readers.
I loved how real family pictures and the houses and areas of the country the Ingalls and Wilder family lived in were used throughout the DVD. Although actors were also used to help illustrate parts of the story they were not focused on as much. I felt like I got to know Laura in a more personal way by watching this documentary. My little girls ages 8, 7, and 4 also enjoyed watching this with me.
I always wondered what happened to her daughter Rose, not many details were ever given about her. It was interesting to find out that she was a writer and was the one who encouraged her mother to write. I am so thankful that she did! Getting her books published was not as easy as some might think, it was in the time of the great depression and the story about how it really happened was nothing short of a miracle.
I was also inspired to find out that Laura did not begin writing until she was much older. The TV series made it look like she was very young when she began writing. This gives me hope that someday I may fulfill my own dream of writing a children's book or two. It just so happens that her writing journey started because of her chickens. I also have chickens! Coincidence? You never know!
If you are a Little House fan I believe you will truly enjoy
Little House on the Prairie ~ The Legacy of Laura Ingalls Wilder
, it can be purchased for $24.95.
Dean Butler also has another documentary all about Almonzo's life called
Almonzo Wilder ~ Life Before Laura
. Other members of the Schoolhouse Review Crew have written reviews of this one, read them by clicking the banner below.