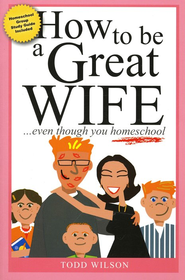 My friend over at
Fir and Cypress
blog is giving away a copy of a wonderful book by
Todd Wilson of Family Man Ministries
titled
How To Be A Great Wife Even Though You Homeschool
.
Entering is easy, just click on the
Fir And Cypress blog here
and enter via rafflecopter.
I read this book myself a couple of years ago and gleaned a lot of interesting info from it. Todd has a real heart for building family relationships and for homeschooling as well. He gets right to the point and doesn't beat around the bush, so although the book is a short read you learn a lot from it.
So go
enter now
, this giveaway ends October 29th! If you win it will be mailed out to you quickly, and I hope you will pass it on and share it with others when you are done reading it.
Blessings!
Are you having trouble finding the time and energy to meet the needs of your husband after a hard day of homeschooling? Maybe you''ve forgotten what his needs are. Would you like your husband to take a more active role in homeschooling? Have you tried nagging but that just pushed him further away?
Your relationship with your husband is the key to a successful homeschool. It is the secret ingredient to increasing his involvement. But be careful because homeschooling is like a black hole. It will consume everything in its path if you let it - your energy, your free time, your relationships, and tragically, even your marriage.
- See more at: http://store.familymanweb.com/products-page/homeschooling/how-to-be-a-great-wife-even-though-you-homeschool-2/#sthash.Cso1Uk1E.dpuf
Are you having trouble finding the time and energy to meet the needs of your husband after a hard day of homeschooling? Maybe you''ve forgotten what his needs are. Would you like your husband to take a more active role in homeschooling? Have you tried nagging but that just pushed him further away?
Your relationship with your husband is the key to a successful homeschool. It is the secret ingredient to increasing his involvement. But be careful because homeschooling is like a black hole. It will consume everything in its path if you let it - your energy, your free time, your relationships, and tragically, even your marriage.
- See more at: http://store.familymanweb.com/products-page/homeschooling/how-to-be-a-great-wife-even-though-you-homeschool-2/#sthash.Cso1Uk1E.dpuf
Are you having trouble finding the time and energy to meet the needs of your husband after a hard day of homeschooling? Maybe you''ve forgotten what his needs are. Would you like your husband to take a more active role in homeschooling? Have you tried nagging but that just pushed him further away?
Your relationship with your husband is the key to a successful homeschool. It is the secret ingredient to increasing his involvement. But be careful because homeschooling is like a black hole. It will consume everything in its path if you let it - your energy, your free time, your relationships, and tragically, even your marriage.
- See more at: http://store.familymanweb.com/products-page/homeschooling/how-to-be-a-great-wife-even-though-you-homeschool-2/#sthash.Cso1Uk1E.dpuf