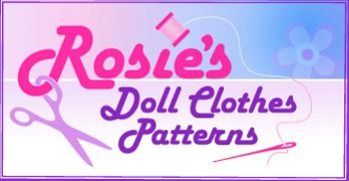 Hello, my name is Beth, and I have become a doll clothes sewing addict!
God has blessed me with 3 little girls at home right now, so there are lots of dolls to dress up around here. Dress up is a daily thing for the girls, so of course dressing up their dolls is something they enjoy doing too. I have loved reviewing the
Learn How To Make Doll Clothes Video Course
from
Rosie's Doll Clothes Patterns
website. It was made for ages 8 and up, so it is perfect for sewing together with your kids.
Rosie
is a mom who remembers making doll clothes when she was a young girl, but when she started making them for her own daughter they seemed much harder to make than when she was little. She began designing her own patterns and instructions, then took it a step further and made video lessons to go with each pattern so others could learn to sew beautiful doll clothes too.
With this course you get 6 weeks worth of video sewing lessons, over 130 of them, which are streamed from Rosie's website so there are no huge files to download. For those of you with flaky internet, I feel your pain, and the course is also available on DVD's for you! The patterns and instructions can be printed and kept forever. The video lessons can be watched for a full year, so there is plenty of time to try out all 8 patterns that are included for free with the course. These patterns are for 18 inch dolls like American Girl, What A Doll, Australian Girl, etc. Patterns for Cabbage Patch dolls are also available to go along with the course if you prefer those instead, just email Rosie after your purchase and she will arrange that for you.
The bonus patterns include Sport Shorts, Crop Top, Sarong, Halter Top, Summer Nightie, Hat, Underpants, and a Pumpkin Costume. We made everything except the Pumpkin Costume because we couldn't find the fabric for it locally.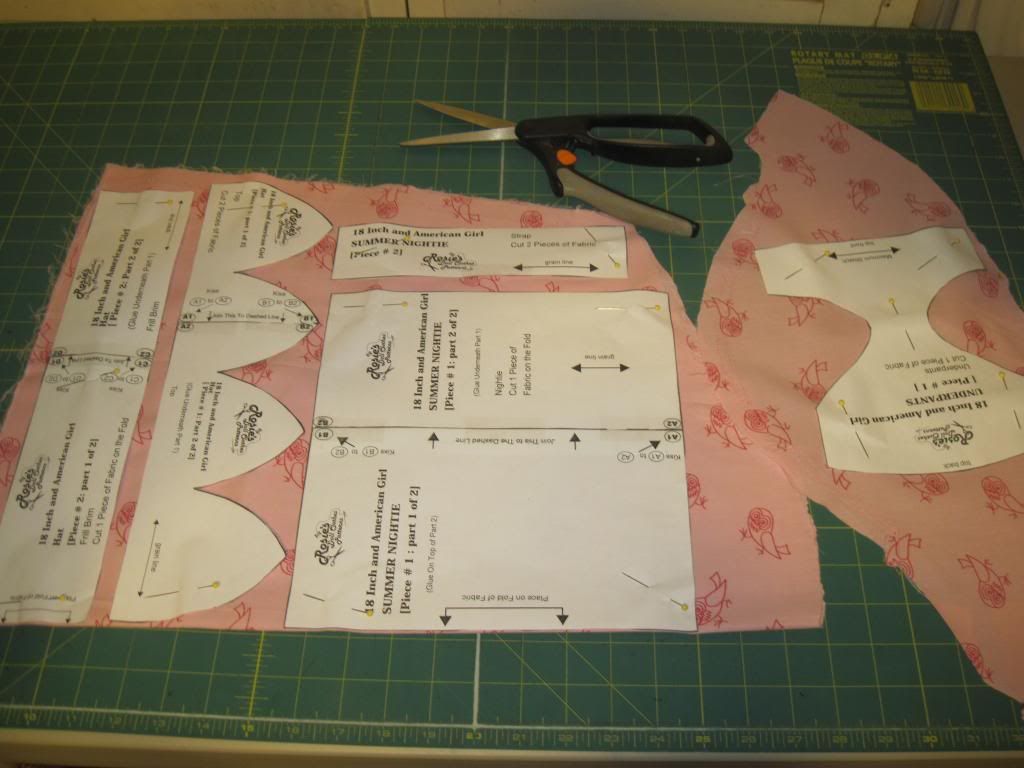 My daughters and I watched the videos together from the beginning. I have been sewing for years so much of it was nothing new for me, but for them it was just what they needed. Everything is covered from what tools you will need to setting up a sewing space to step by step sewing demonstrations.
My 9 year old daughter ironed the fabric, cut out the pattern pieces after I printed them, and pinned them on the fabric properly after watching the first few videos. Each lesson is short, no longer than 10-12 minutes each.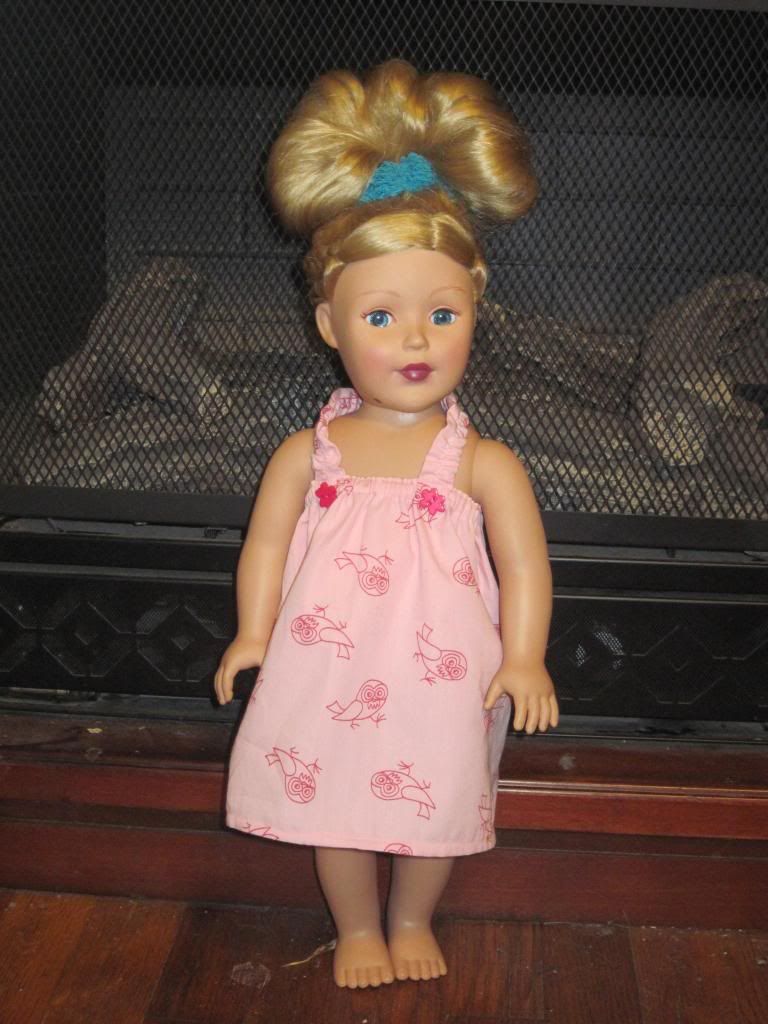 I was very impressed by how thorough her videos are. They are very clear with good sound quality and you can see every little detail while she is demonstrating each step. Of course watching a video and actually sewing are two different things. I am a hands on learner, but being able to watch things being done first was very helpful. My daughter is a visual learner, so this was right up her alley.
Rosie has truly found easier ways to sew doll clothes, her tips and tricks were pretty amazing. Based on my past experiences, sewing doll clothes is a pain, but I have genuinely enjoyed sewing with her patterns and instructions.
Rosie gives the cutest ideas for adding things like buttons and lace to make your outfit one of a kind and special. My daughter picked buttons to add to this summer nightie. We think the nightie pattern looks like a sundress too.
You don't need large amounts of fabric to make the outfits, I have used up a bunch of small odd shaped pieces.
We also recycled clothing that was stained, outgrown, or just loved too much to give away to make new outfits. This was another of Rosie's great ideas. The tie dyed sarong was originally a pair of pants from the thrift store, then pillowcase dresses worn by all 3 of my youngest girls, and now they can enjoy it on their dolls.
The denim fabric was a dress I got out of the free bin at the thrift store with a big stain on it. I got several pieces out of that one dress that would have been thrown away. I look in those bins with a different view now. There are so many things that can be re-used, its like a smorgasbord of sewing fun for free!
Rosie gives tips for making the clothes fit other size dolls. I modified the patterns a bit so that their 15 inch Bitty Babies could wear them. We have one Bitty Twin boy doll and he couldn't be left out. The sport shorts are gender neutral, I added length to the crop top so it looks more like a tank top. Now he's stylin' too!
I plan on purchasing more patterns and making clothes for the girls' dolls for Christmas. I am looking forward to seeing even more patterns available in the future. I'm hoping for shoe patterns!
Sewing is one of the most important life skills I want my kids to know how to do. It saves you money, is enjoyable, and is something my family has always done. My grandpa was still hemming his pants to fit his short legs when he was in his 80's. You can also make extra money or even an entire income with sewing skills.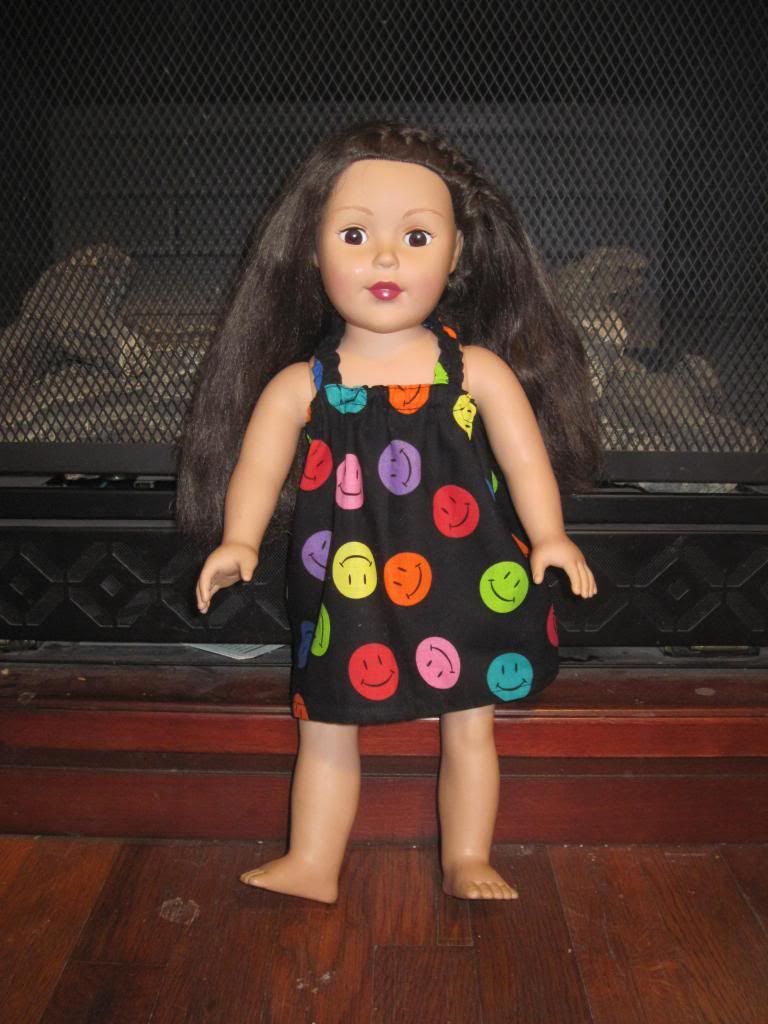 The time I have spent with my daughters making these outfits has been wonderful! When I think back on my days as a girl I don't remember half of the gifts I received, but I do remember the time that people spent with me. I remember the things people taught me to do, like sewing and cooking. I am making memories with my kids and that is the best investment any parent can make!
If sewing is something you enjoy or want to learn to do, the
Learn How To Make Doll Clothes Video Course
is a fun way to spend time together, to learn together and be creative, and is a gift your child will not forget.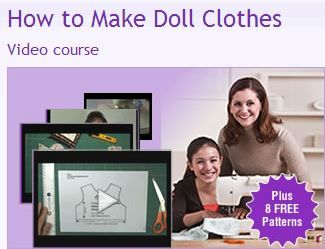 You get a full year of access to over 130 sewing videos, 8 patterns with instructions to download and keep forever for $48.00 USD ($49.94 AUD) You can also choose DVD's for $67.23 USD ($69.94 AUD) Prices are correct at the time of this posting, they could fluctuate a bit depending on the exchange rate.
Special price note from Rosie's Blog:
From now until midnight on the 24th December, 2013 when you purchase my How to Make Doll Clothes video course I'm giving away an additional pattern of your choice absolutely free!
She even offers a
money back guarantee
! Try a
taste of her tutorials for FREE
, scroll to the bottom of the page and enter your name and email.