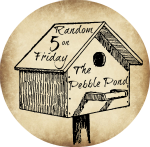 Oh boy has this been a doozy of a week!
1. I bought my dream car! A 2000 Volkswagen Beetle. It wouldn't start today, figures! Hopefully my brother can fix it.
2. I went to court to petition for custody of my 4 oldest grandchildren. Long story here.
3. My two middle daughters each donated 10 inches of hair to Locks Of Love. Pictures to come soon!
4. We survived the polar vortex thingy that went through the country. Surprisingly our water didnt freeze! A drain line did though, so the washer flooded my laundry room / pantry with a couple inches of water. Its ok though, cleaned up quick :)
5. My baby will be turning 5 at the end of the month. I have had a preschooler for the past 26 years, so this is a strange feeling for me. She has an appointment to donate her hair next Thursday. Shes going to look so grown up. I don't know if I can handle this much change right now.
Watch for those pictures in the day or two, and have a blessed week everyone!