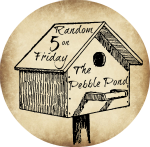 I like the idea of posting 5 random things on Friday so I'm linking up with
The Pebble Pond
and other bloggers doing the same thing :)
So here are my random 5 for this week.....
1. I am so glad it snowed a bit and the weather is all icky outside. I do not like the cold but I do like staying home. I have had way too much running to do the past 2 weeks, Im ready to hibernate now!
2. I have spent the past 2 days just cleaning up the after math of Christmas and loading an entire vehicle full of things to donate to the thrift store. It feels good to lose a couple hundred pounds of stuff!
3. I do not so New Years Resolutions, but I do have goals for the year. One of my main goals for this year involves doing a lot of painting. And sewing. :)
4. I just filled out the first vendor interest form for the new
Schoolhouse Crew
year. Perhaps Ill have a review of some fun curriculum coming up soon.
5. Im looking forward to next week because if all goes as planned Ill be buying something I have always wanted, but it isnt for me. Ill post more about that next week!
Have a BLESSED WEEK!!!!!