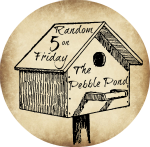 This month seems to be passing by quickly, I was hoping this year would go slower than the last but I guess not. Here is my ransom 5 for this week...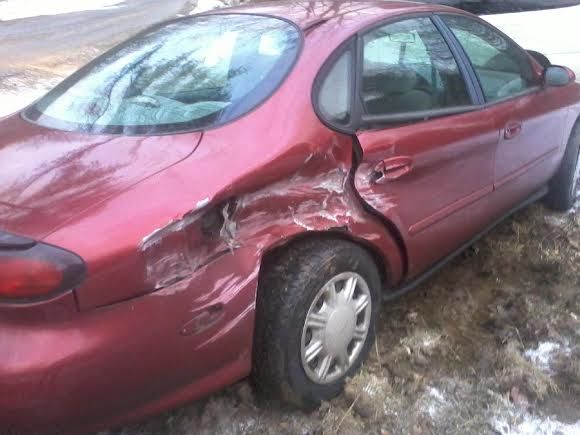 1. This morning I woke up just before dawn, my phone was ringing and the caller ID said it was my 16 year old son. He had just wrecked his car on his way to school. He was fine but very upset, I got dressed and went to find him. Its days like this I am thankful my husband works evening shift, I dont have to wake up and dress 4 little ones and take them with me in the mornings.
He hit an ice patch and the car fishtailed into a big rock on the bank, then he hit the ditch and jumped it a bit into someones yard. I am so thankful to God that he is ok! I'm also thankful no other vehicles were involved so no one else was hurt. And I'm thankful for the mechanic we know and trust who lives nearby. He towed the car to his garage and will let me know if there is any hope of fixing it soon. I don't have much hope for it though, cars just aren't made like they used to be!
2. My youngest granddaughter is supposed to be coming to spend the weekend with us. She just turned 9 months and we just have so much fun with her when she is here. Its been a month since she visited so we are looking forward to a weekend of baby cuteness!
3. Last week I said that my 4 year old was going to donate 10 inches of her hair this week. Due to a snowstorm and the fact that I was sick for 3 days it didn't happen. We still plan on doing it soon though.
4. On Monday, a Bible study was started at my church. We are using Pricilla Shirer's book
Gideon: Your weakness. God's strength.
along with video lessons each week.This is an amazing study! I am already learning and growing because of it. It was perfect timing for me.
5. One of our pet teacup pigs has been sick all week and when I got back home this morning she had passed. Yes it has been a rough morning so far! Oh and I also fell on the ice while talking with the wrecker guys, which is never a good thing when you already have a back injury. So now that the 3 bad things have already happened this morning I guess I can expect the rest of the day to be just peachy right!
gggg