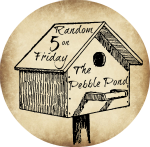 1. Although I dislike being cold I must admit that snow makes the winter world much prettier. It covers up all the greyness, the dead grass and bare trees and bushes. When it falls from the sky it seems to glisten and reminds me of soft feathers. I think I may like snow, but this bitter cold can go away now!
2. On facebook yesterday a friend posted a note saying to "grab the book closest to you and turn to page 45, that page will describe your love life". The closest book was The Jesus Storybook Bible and page 45 had no words, just a picture of the ark floating in flood waters with waves all around it. Im still contemplating that one.
3. My dad called a couple of days ago to tell me a joke. It actually made my husband laugh so it must be worth sharing! Why does a bee have sticky hairs on its back? Because it uses a honeycomb on them. :)
4. I got to keep my granddaughter for 5 days because of the snow. We had such fun with her, and the house feels so empty with her gone. I hope she comes back again soon!
5. Thank you God for chocolate! The world would be a much worse place without it!