After much prayer and searching we have decided to take a more relaxed approach in our homeschooling this year. I have let go of my old ways of thinking that included not using much technology like computer based learning in our homeschool. We are now using quite a few online websites. When I was offered the chance to review a science program online for grades K-2 I knew my science loving girl, Skye, would probably love it.
We received a
Science4Us.com Online Subscription
for 6 months. Because it is for younger grades I told her she could have this program all to herself. That didn't quite happen though. Every time she logged on her baby sister was right there watching too.
Science4Us.com
is completely online, there is nothing to download. Setting up our account was easy and there were many videos to help us get stated and get the most use from the program.
This is the screen Skye sees when she logs on. I let her pick a topic that sounded interesting and she took off completely on her own after that. As the teacher I had the ability to assign certain lessons if I wanted to, but I preferred to let her choose what she wanted to learn. The freedom to choose led her to try out many different modules, and she could work at her own pace without any pressure from me.
Now for those of you who like to have more control over what is being learned, or would like to customize lessons to coincide with another curriculum you can assign lessons, keep track of everything, and be totally connected through the parent/teacher page.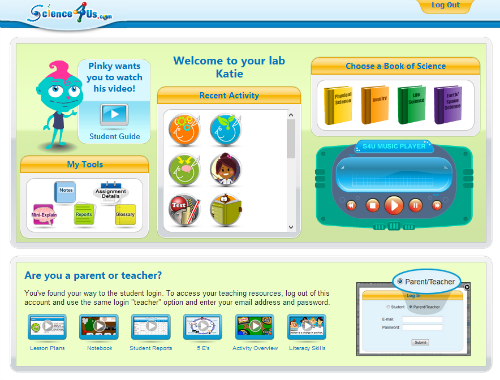 There are 4 main topics to choose from including
Physical Science
,
Inquiry
,
Life Science
, and
Earth/ Space Science
. There are many subtopics under each of those, over 350 lessons in all. They even managed to sneak in some language arts and math as well. There is enough material here to keep Skye busy for much longer than her subscription is for.
She asks nearly every day if she can do science. It is so refreshing to see her
wanting
to learn. She tells everyone that science is her favorite subject. There is no dry boring science here! She is interacting and learning hands on. Several times throughout this review she would say something during the day that I know I didn't teach her. Id ask her how she knew that, and Science4Us.com was the answer. I know she is learning because I see and hear the evidence.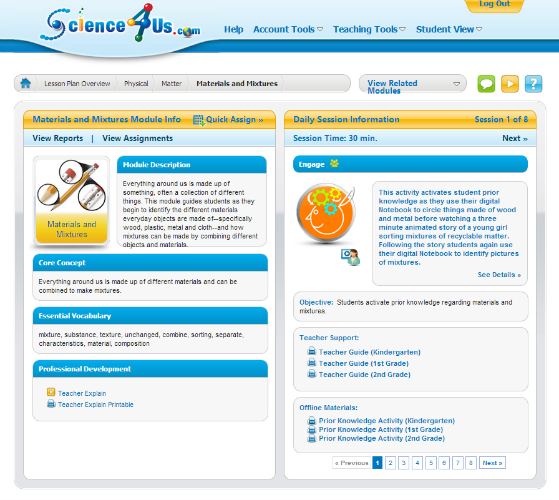 During the lessons Skye could make notes using her virtual notebook feature. Her entries are so cute, phonetic spelling and all. She is proud of that notebook, and asked for a real one that she could carry around all the time. Now she is making entries in that as she discovers new things every day.
One feature I like is that I can get automated reports for Skye's annual portfolio I must have evaluated each year in our state. For those who choose to or have to test I can see this site being a big help in the science part. The lessons correlate to national and state standards. This site was created with
homeschoolers in mind
as well as for classroom use by the makers of VocabularySpellingCity.com.
I hope in the future this program is updated so older children can benefit from it also.
A subscription to
Science4Us.com
is $7.95 per student per month.Try an
online demo
and see what you think!
Connect with Science4Us.com via....
Twitter:
https://twitter.com/Science4UsSays
Pinterest:
http://www.pinterest.com/science4us/
Facebook:
https://www.facebook.com/Science4Us
G+:
https://plus.google.com/u/0/b/112259351657747584252/