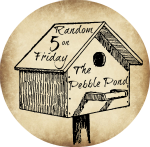 I got to visit my grandkids this week, well 4 of them. The one I didn't get to see had a birthday yesterday. I sent his presents to him though. It was a bittersweet visit.
My oldest daughter is home from college for spring break.
My youngest son is going to Disney World today. Its the furthest from home he has ever been in his life. He is with his best friend in the world. I hope he has the time of his life! He will also be going to Lego Land while he is there. A boys dream right?
Wasnt that one warm day incredible? Oh summer how I long for thee!
If I lived near a goodwill bookstore I might as well just move everything out of the house and install wall to wall bookshelves. I got to visit one while in VA this week. I restrained myself and only spent 21.00 but it was hard! LOL