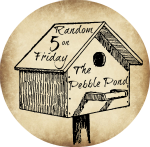 Even though it snowed some this week and is supposed to snow again next week it really does feel like spring is here. I wont let these little cold spells get me down :)
We have the first little purple, white, and yellow spring flowers popping up around the front of the house. We bought this house in August so seeing those flowers come up the first spring we were here was such a beautiful sight. I love seeing them every year now!
Tomorrow I get to do something I haven't done in any many years. Its dangerous (for me) and I'm a little scared to do it but I think I will anyhow. Pics next week!
I let another teenager move into that house. Oh wait, hes 20 now, but still acts like a teenager. What do you call them at this age? LOL
Blackberry vanilla tea tastes really good. Thank you Lipton!