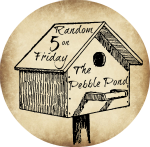 I haven't done this in a while, so here goes!
1. I have been a mom for 26 years now, and never have I had a kid get the chickenpox until this week. I have tried to expose them so they could get it over with while they were little but they never got it. My older 4 had the chickenpox shot years ago, before I knew the risks, so they may never get them. My younger 4 have avoided that shot and will now get their immunity naturally.
2. We spent most of this week at the farm cleaning the place up and getting it ready to hopefully rent out in August. It was a nice getaway, I actually had some free time (WHAT!?!) and I did some cross stitching and book reading. The kids brought along the Liberty's Kids DVD series I bought them for Christmas and discovered they really enjoy watching it. They almost watched the entire thing!
3. My youngest son turned 11 yesterday. He is the one with the chickenpox. I felt bad for him because he wanted to go do things but it isn't kosher to be around other people right now, so we stayed home. We did get him drive through pizza though, and when hes better we will make up for it.
4. My 17 year old son has been gone on a mission trip all week. I cant wait to hear his stories, and I have prayed for the people he works with to see Jesus in him and desire to be like Jesus too.
5. Our beloved pet piggy went to piggy heaven this week. We aren't sure what happened, but she was nursing 4 piglets that were a week shy of being ready to go to new homes. Thankfully they are eating regular food just fine and will be able to go as planned. She never got to visit the farm, but we buried her there. Two of my girls are especially upset, but we will all miss her. Rest in peace Bagels!