I first learned about
Library and Educational Services
last year when we reviewed
2 DVD's from Series 1 of Go Science
. I love this website! As a home educator I can get anything they offer at the same prices that libraries and churches get, which is 30% to 70% off regular pricing. They offer so many things, and there are
no fees to become a member
.
Today I want to share with you about the new
Series 2 DVD's from Go Science
. There are 7 in all, and they are affordable priced at $8.97 per title through LES. The recommended age range is 6-10 years, but my 5 year old loves to watch even if she doesn't understand every concept. I personally love watching along with the kids too! The topics in this series include.....
Volume 1: Sound, Gravity, Space
Volume 2: Life Science, Weather
Volume 3: Air
Volume 4: Motion, Friction, Electricity, Light
Volume 5: States of Matter, Water
Volume 6: Chemistry
Volume 7: Engineering, Design, Flight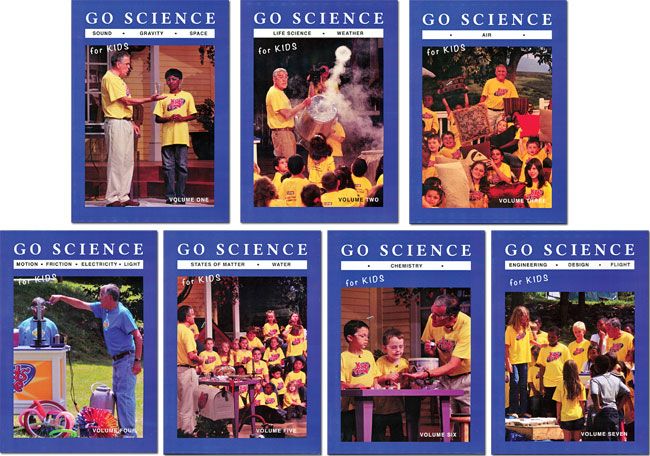 Ben Roy is the host in each episode, and he performs demonstrations in front of a group of kids all for the purpose of showing how "Every time we learn more about science, we learn more about our creator..... God!" Some of his demonstrations were filmed at a summer VBS, and if you happen to be looking for some fun things for your VBS this summer I encourage you to check these out! Each lesson introduces a scientific concept, shows something amazing to see, and then becomes a mini sermon when Ben Roy tells about how the experiment relates to God and His amazing design for our world.
Some of the experiments can be duplicated at home while others cannot without special equipment. The point isn't to repeat everything at home, just watching has so many benefits.
For our review we got to pick two DVD's, the kids chose Volume 2: Life Science and Weather, and Volume 7: Engineering, Design, and Flight. Both of these DVD's last about 1 hour but is broken up into 12 segments lasting just a few minutes each.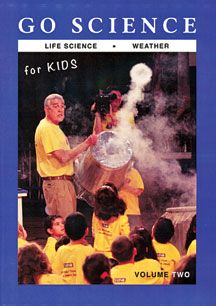 LIFE SCIENCE
Flashlight Animal Eyes
Animal Skulls
Bobby Pins
What Are You Looking At?
How Much Do Your Lungs Hold?
Eating Nails For Breakfast
Naked Eggs
WEATHER
Fire Tornado
Ping Pong Cannon
Liquid Nitrogen Cloud
Cloud in a Bottle
Garbage Can Vortex
ENGINEERING / DESIGN
How much will it hold?
Leaning tower of Lyra
Nail Balance
Trebuchet
Centrifuge
Walking on eggs
Bed of nails
FLIGHT
Rocket balloons
Vinegar rocket
Toilet paper on paint roller
Film canister rocket
I realize the titles do not tell you much about what actually happens in the demonstrations, but trust me they are all pretty cool! The kids loved making vinegar rockets, and are begging to try walking on eggs. I haven't agreed to this one yet because they want to use our precious free range chicken eggs that are in short supply right now as our chickens are moulting. Perhaps I should just buy some? LOL
I do want to point out that if you are looking for really in depth explanations of the "why" and "how" in each experiment you will not find that here. However, watching Ben Roy demonstrate something often led to many questions from the kids that we had to go and research for ourselves. To me that is a valuable tool. It encouraged them to dig deeper when they had an interest in knowing more. We strongly believe in self motivated learning around here!
The kids and I all give the Go Science DVD's a big thumbs up, and they want the others in the set too.
Watch a sample video from Volume 1 Gravity to get a feel for what an episode is like.....
Connect with Library and Educational Services via....
Facebook –
http://www.facebook.com/libraryanded