Piano music is something I have always loved to listen to. We listen to lots of classical music and my kids have occasionally said they would like to play piano like that. We were recently given the chance to review
HomeSchoolPiano
, a program that lets you learn how to play piano at your own pace through video lessons.
Core Piano
contains 30+ lessons that teach piano essentials
Book 1
which was written for the absolute beginner
Book 2
works on rhythm, techniques, music reading, songs, and improvisation
Book 3
is for advanced players.
Plus over 20 hours of streaming lessons. You can also download the lessons for use when offline too.
To use this program you will need.....
*A computer, tablet, kindle fire, or ipad with high speed internet access. You can also use your smartphone but we found the screen size too small for our liking.
*A printer to print the books, or you can have them printed somewhere else.
*A piano or a 49 key keyboard.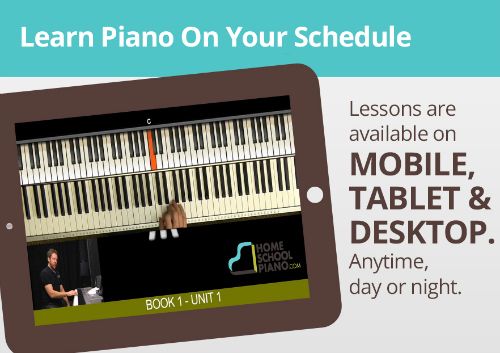 I was very glad that we could use our kindle fire tablets to access our lessons. This made it very convenient for each child to log on their own kindle and stay logged in. I also didn't have to put the keyboard in the dining room where our family desktop is located. The kindle fits perfectly on the music stand.
Setting up our account was easy and fast. Each child has their own log in information, and once they log in they simply click the "Where You Left Off" button to continue.
The teacher is Willie Myette, and I really like the way he teaches. At the top of the screen you will see two views of the piano keys. The top one shows what keys are being played by highlighting them in red, below you have a full view of his hands on the keyboard so you can see clearly what he is doing. Down in the left hand corner is a window with Willie at his keyboard where you can see him as he speaks and demonstrates.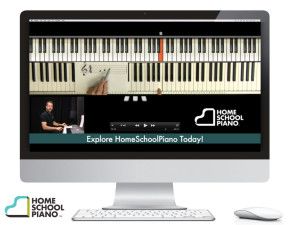 My son tells me this really helps him to have the different views. He can get quickly overwhelmed and upset when he doesn't understand something. He also likes that he can watch the lesson over again and again if he wants to before he moves on.
We liked that the lessons are short, about ten minutes or less each, and daily practice is easier that way when you have a highly distractable child who doesn't want to sit and do lessons for too long. It is summer right now after all!
I tried using this with my younger children and they didn't have the motivation to sit and really get into the program at this time. My 11 year old son is who used it the most and because he does have interest he is working through it, although slowly. I tried out the lessons myself, and I do feel like it is more appropriate for older kids, 10 and up, unless your child
really wants
to learn it.
The website claims it is for all ages, but you know your child best, so go with what you know when deciding. The great thing about the lifetime subscription is that if my younger kids get interested later on we already have the program! It is so nice knowing we can go at our own pace as well and not feel rushed because our subscription will run out.
I would also like to add that I do not have any background in piano, so I am an absolute beginner just like the kids. Its been fun to do this with my son and learn the same things together. He sees me make mistakes just like he does and it encourages him to just keep practicing and its OK to mess up.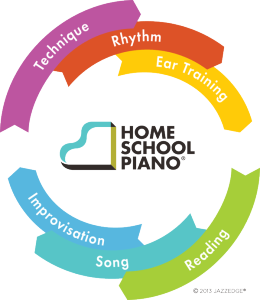 There are two ways to pay for your lifetime subscription to
HomeSchoolPiano
.....
Success Package (One payment of $299)
Unlimited life-time access to HomeSchoolPiano along with all bonuses (downloads, jam tracks, sheet music) for up to 5 students.
OR
Payment Plan (Payments of $99.97 per month for three months)
Unlimited life-time access to HomeSchoolPiano along with all bonuses (downloads, jam tracks, sheet music) for up to 5 students.
Click on the banner below to read more reviews from other homeschool families!
You can connect with HomeSchoolPiano via.....
Facebook:
https://www.facebook.com/HomeschoolPiano
Twitter:
https://twitter.com/jazzedge
Pinterest:
http://www.pinterest.com/jazzedge/