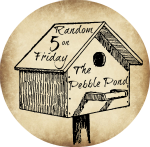 I cant believe it is August already! I thought summer went by too fast as a kid but its even worse as an adult!
My son is completely healed from his surgery. Scary stuff! Except for the scar you would never know by looking at him that he went through all that he did.
I guess I should start planning for school this year huh? I have ordered just about all we need so thats a start.
I really want a vacation! Like a REAL go somewhere and do something together vacation!
Why is it so cold? Isnt this August?