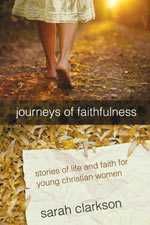 Journeys of Faithfulness
by Sarah Clarkson is a devotional written for young Christian women. I may not be considered "young" anymore but I thoroughly enjoyed this wonderfully written book. You can read it alone or with your daughter/s ages 12 and up. Women from the Bible are featured in these stories, Mary and Martha, Mary the mother of Jesus, Esther, and Ruth.
Sarah's beautiful style of writing really brings each character to life in your mind, she goes beyond the story itself to describe the innermost feelings these women must have felt. Each chapter also includes a devotional where Sarah shares about events in her own life relating to the story, questions to ponder, Bible verses, and journal pages to write down your feelings and discoveries.
I looked forward to reading a bit more of this book each night, it was hard to put it down! Reading through this devotional has encouraged me to look more closely at my own relationship with Christ and given me the desire to be closer to my Lord and Savior.
Each story is Bible based, but she adds possible thoughts and feelings of the character which makes it fictional, but oh so much more real. I feel like I know them, and I have a deeper understanding of the story behind the stories.
The one that touched my heart the most was the one of Esther. In this season of my life I am dealing with many changes that I am uncomfortable with. I long for simpler times when I was younger. So did Esther. She didn't want to go live in the palace, she had no desire to become queen. Her story of learning to reach out and show love to those around her, to be content in her circumstances, and be obedient to God's will for her life was very encouraging to me! I want to be just like her when I grow up. :)
You can
read a sample chapter here about Mary and Martha
.
This book would make a wonderful character study for mother and daughter to read together. I read it myself because my daughters at home are all very young but in a few short years I would love to read it again with them. I hope my Mom will want to read it too. It would make an excellent choice for a Mom's devotional night or book club reading. It would make a great gift!
Journeys of Faithfulness by Sarah Clarkson
is available for purchase through
Apologia Ministries
for $13.00. It is available in paperback and has 232 pages. Sarah has written another book,
Read From The Heart
, also available from Apologia.
Read my review of this book here.


Disclaimer ~ We received this product at no cost in exchange for an honest review after using it in our homeschool. No other compensation was given. All opinions expressed here are my own. Other opinions may vary. Click the banner above to read what others thought of this product.