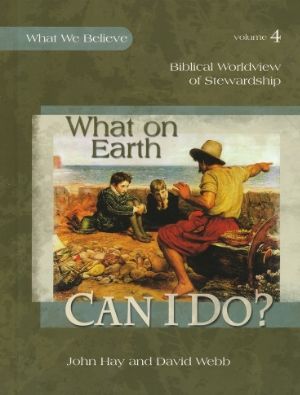 What on Earth Can I Do?
($39.00) is the 4th book in the What We Believe Series from
Apologia Educational Ministries
. We were also sent the
What On Earth Can I Do? Notebooking Journal
, the
What On Earth Can I Do? Junior Notebooking Journal
, and a
What On Earth Can I Do? Coloring Book
to use along with the main book. We have been so blessed to review the other 3 books in the past including...
Book 1 ~
Who Is God? And Can I Really Know Him?
Book 2 ~
Who Am I? And What Am I Doing Here?
Book 3 ~
Who Is My Neighbor? And Why Does He Need Me?
This volume is a non-denominational in depth family devotional with a Christian worldview that addresses the issue of stewardship. Now before you roll your eyes and say you already know about giving 10% of your income to the church, let me assure you that is not the focus of this book. In fact, I was more convicted of how I am a steward of my
time
while reading through this volume. The lessons include...
1. Your Story or God's Story?
2. Who Put You In Charge?
3. Will You Be Found Faithful?
4. Where Is Your Treasure?
5. Where Does Your Time Go?
6. Whose Life Is It Anyway?
7. Why Isn't It Easy Being Green?
8. What Will Happen When The Master Returns?
This series was written for ages 6-14, but unless your child is reading at a 5th to 6th grade level you will need to do the reading for them. It is great for family bible time, I enjoyed the stories as much as they did. I couldn't help but read ahead once the kids were in bed at night. Bible verses are mostly from the NIV, but other translations are used as well. Apologia recommends you use the translation of your choice for bible memorization.
There is an ongoing story throughout the book about a family living in the time of World War 2. While this can be a difficult subject to discuss with younger kids, I think Apologia has done a fine job of giving just enough detail to be historically accurate, but not so much that a child cannot handle it. This is another reason I read ahead, to be sure if something would be particularly upsetting for one of my children I would know in advance and could decide if I needed to skip a particular part.
Apologia provides a lesson plan to work through the book, but you are free to move at your own pace. At some points we really wanted to read more, and some days not so much. You can complete a book in a semester or use it over the entire school year.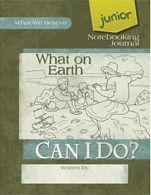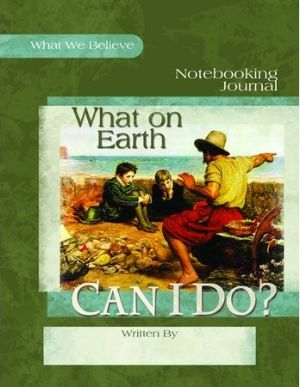 The
Notebooking Journal
and
Junior Notebooking Journal
($24.00 each) are an optional resource you can use to give the kids a place to write about what they have learned, make mini books, practice handwriting and memorization with scripture copywork, and complete vocabulary activities. The Junior Journal is designed for ages 6-9 and is preferred by my kids ages 7, 9 and 10 because there are coloring pages (there are no coloring pages in the Notebooking Journal), easier puzzles, and less writing is required to complete the pages.
My 5 year old is too young to do the journal activities but she loved coloring along with the stories in the
What On Earth Can I Do? Coloring Book
. ($8.00) There are many more pictures to color than what are in the notebooking journals, 65 pages worth! If you have a younger child listening in or one who just loves to color this is perfect for them.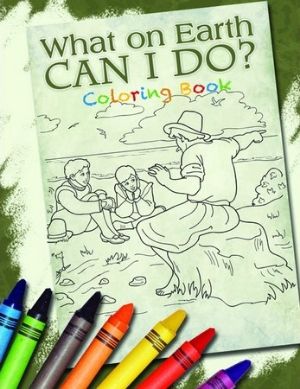 What did we think of What On Earth Can I Do?
I like that Apologia makes it easy to use. There is nothing to plan in advance, we simply open the book and start reading. Some of the notebooking activities require me to help out some, but it is minimal. Only basic school supplies are needed like crayons or colored pencils, scissors, stapler, glue, and brad fasteners.
I love the biblically sound teaching in Apologia books, every one we have used has been right on with what the bible tells us. My kids and I both learn, and the discussions we have are quite amazing because they know what they are talking about after the lessons. The word stays in their mind. The stories stay with them, and are a reminder when they face a situation in life that is similar.
The kids do not balk at listening to this book. They do not always want to write in the journal but that's OK as the real "meat" is the book itself. The coloring pages are always a hit with my little artists though. I love how it is written in a way the kids can
understand and relate
to the characters.
I'm so thankful to have this book to use over the summer while our church isn't having AWANA. There is plenty of scripture to memorize and use for copywork in the journals. Thank you Apologia for once again writing such a great book!
You can find a
sample chapter of the book here
to see if this may be right for your family. There are also samples of the
Notebooking Journal
. Read more reviews by clicking the banner below, or connect with Apologia via.....
Facebook –
https://www.facebook.com/apologiaworld
Twitter –
https://twitter.com/apologiaworld
Google+ -
https://plus.google.com/105053356034237782125/posts
Pinterest –
http://www.pinterest.com/apologia/